Improve reading comprehension
step-by-step
Reading Therapy is a professional speech therapy app that helps stroke and brain injury survivors move from single-word reading to the functional reading needed for everyday life. This app offers thousands of exercises to improve:
Reading Silently or Aloud
Reading Phrases & Sentences
Build attention to detail, decrease impulsivity, & practice oral reading while improving reading skills in the clinic or at home for intensive practice.
Research shows that using this app as part of Language Therapy 4-in-1 for just 20 minutes a day for 4 weeks can significantly improve chronic aphasia. Add your own exercises, or use the thousands included in this app in English, Spanish, French, and German.
See Reading Therapy In Action
Practice at Home or Use at Work
Does your loved one really understand what they read?
It may look like they understand, but you don't know for sure until you challenge them with exercises
Improve through daily practice
This is no dusty old workbook – it works!
Customization, adaptability, immediate feedback, audio support, data tracking, & automated reporting
Can your worksheets do that?
Here's What People are Saying about
Reading Therapy
Wonderful app for stroke patients!
Parents & educators need to take note of this app!
What You'll Get in
Reading Therapy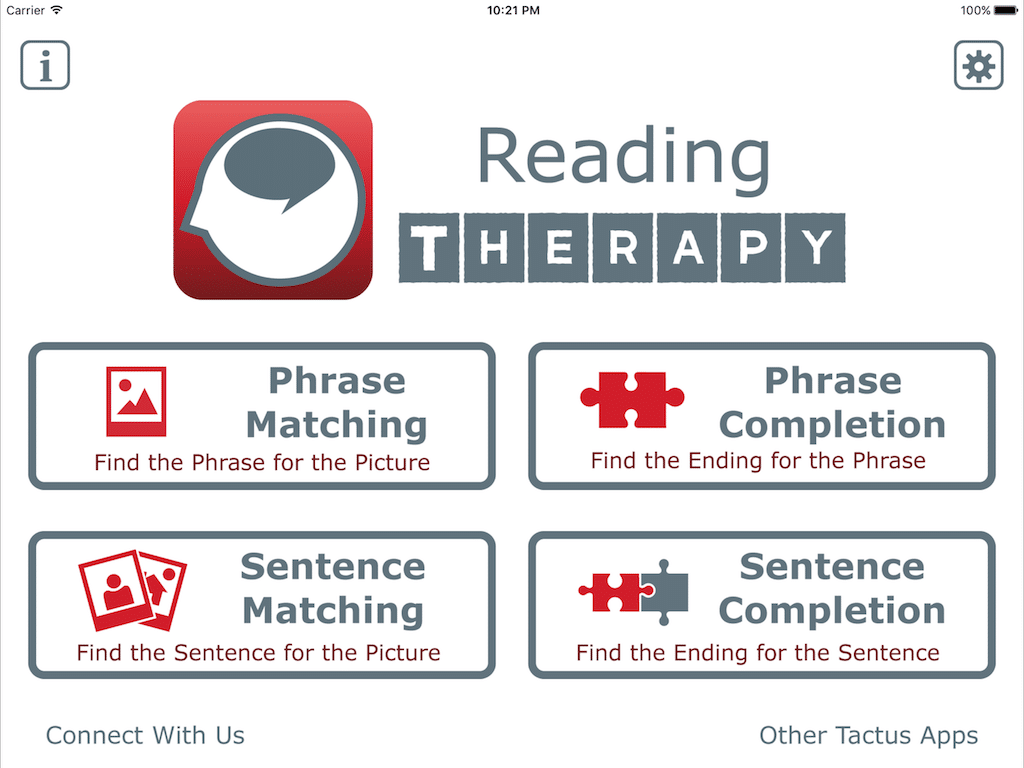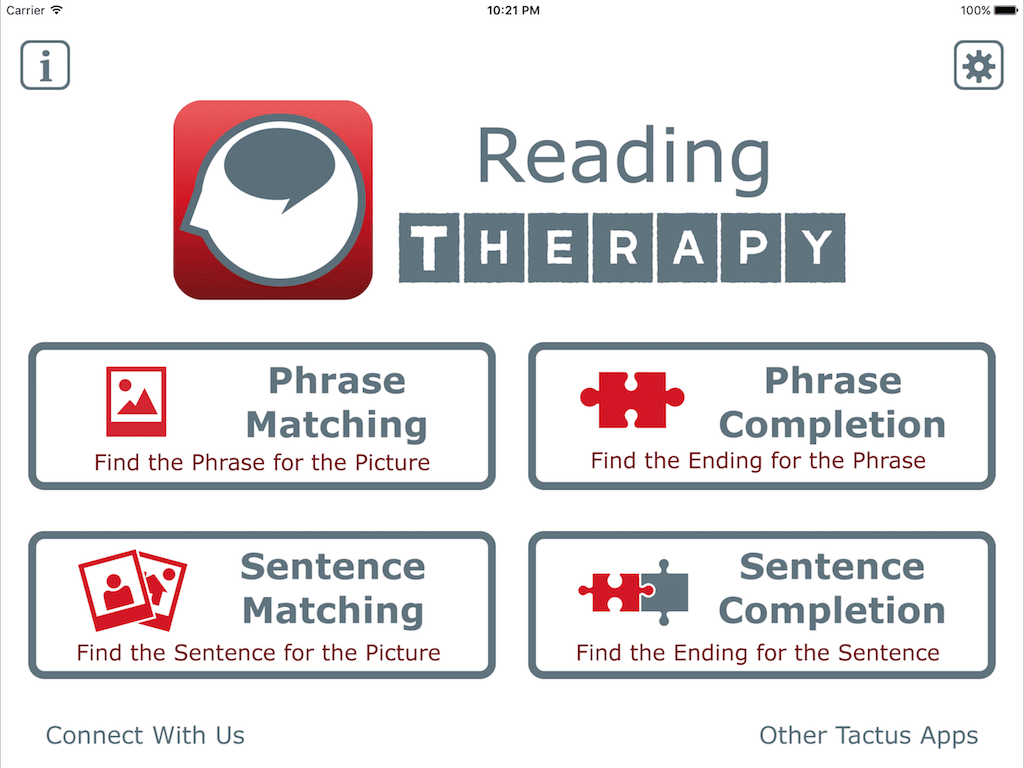 Four activities provide thousands of exercises for reading comprehension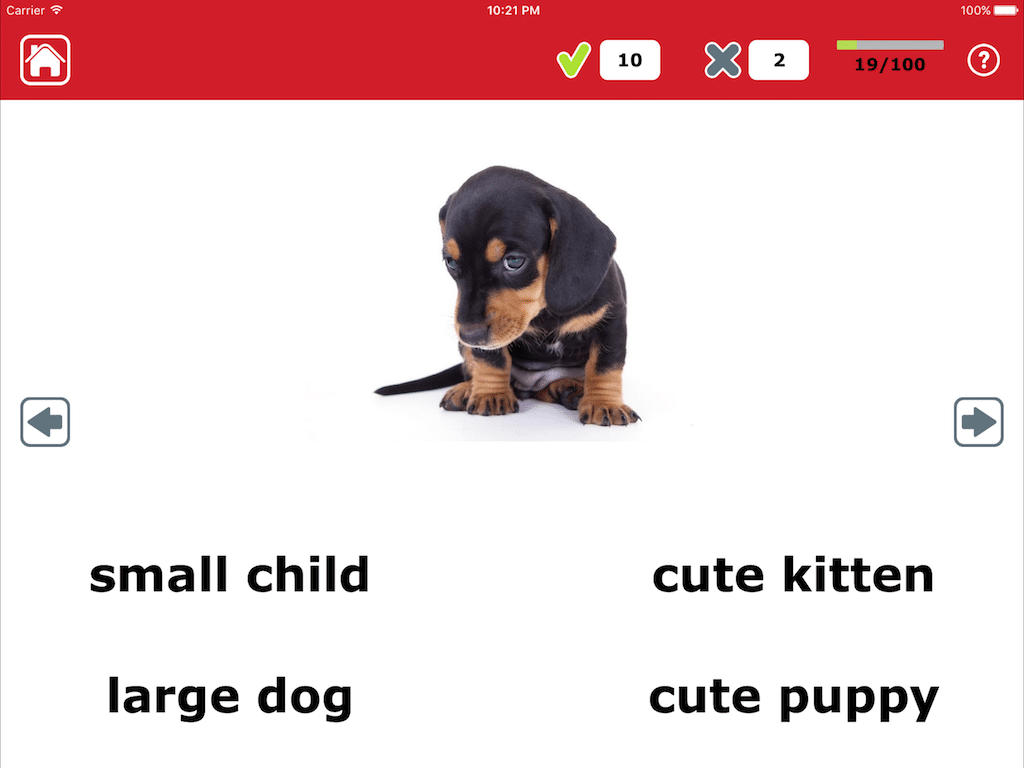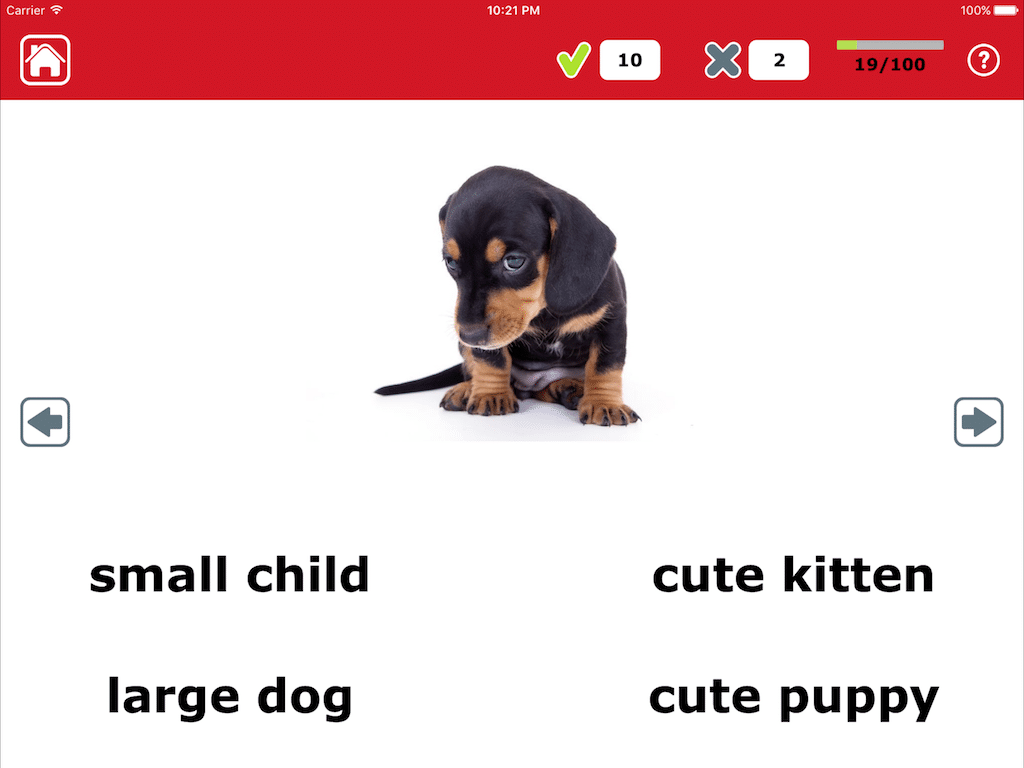 Phrase Matching uses a target picture and 2, 3, or 4 answer choices to select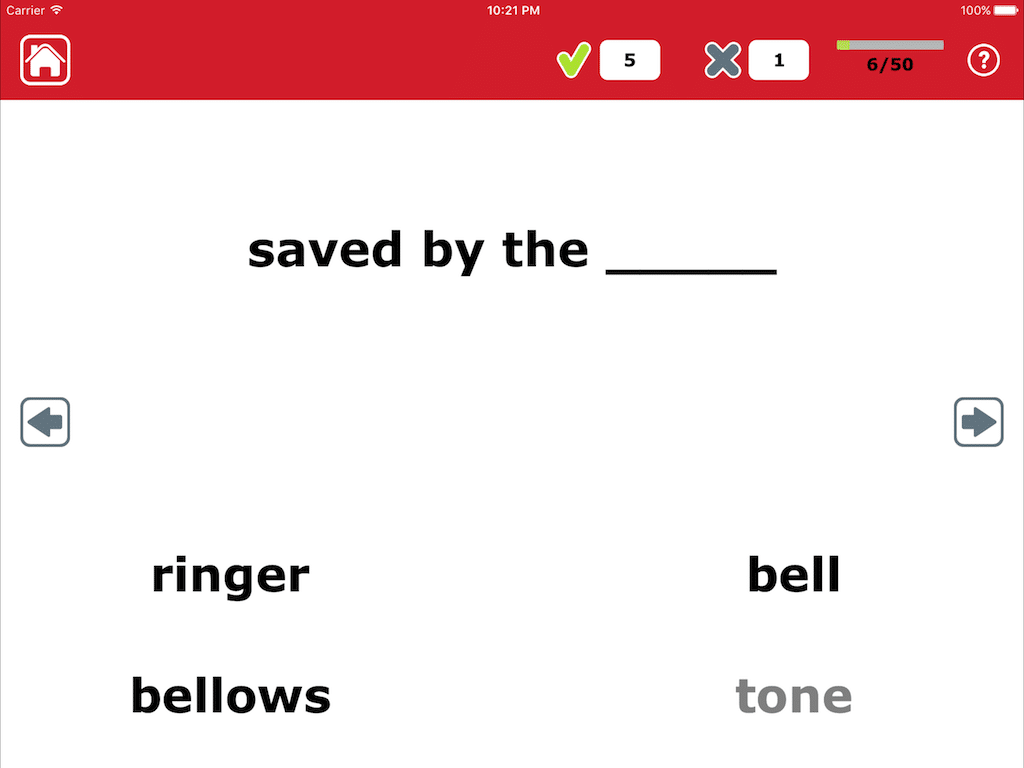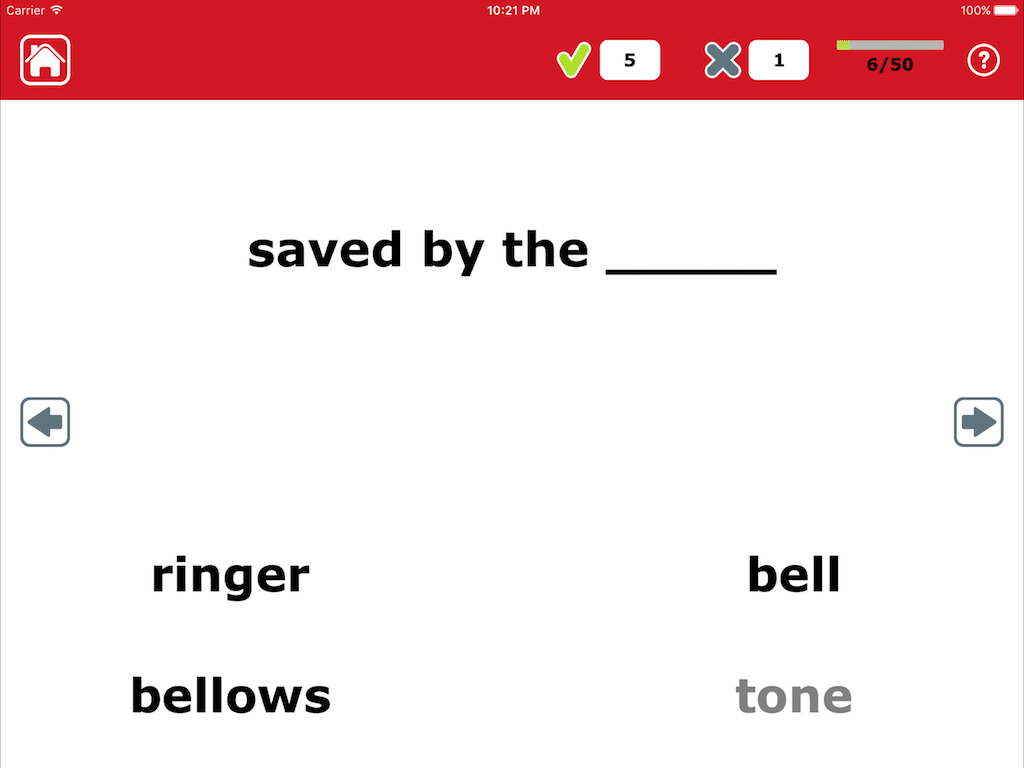 Phrase Completion leaves the last word blank for you to select from up to 4 choices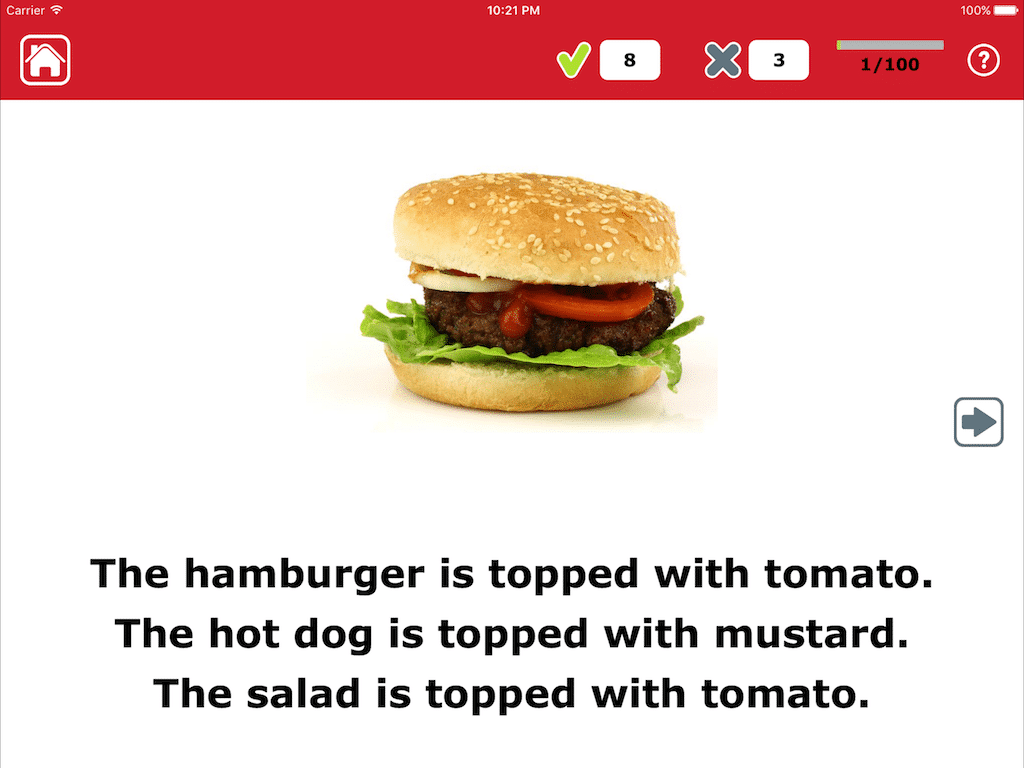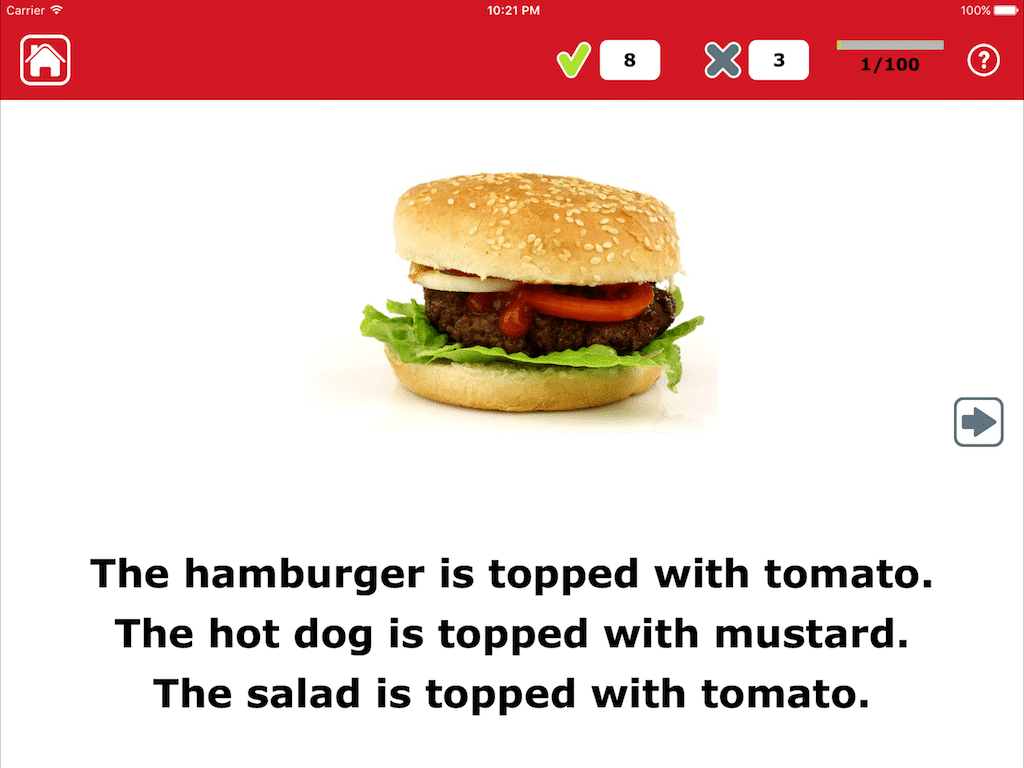 Sentence Matching requires careful reading of all options for the best answer to go with the picture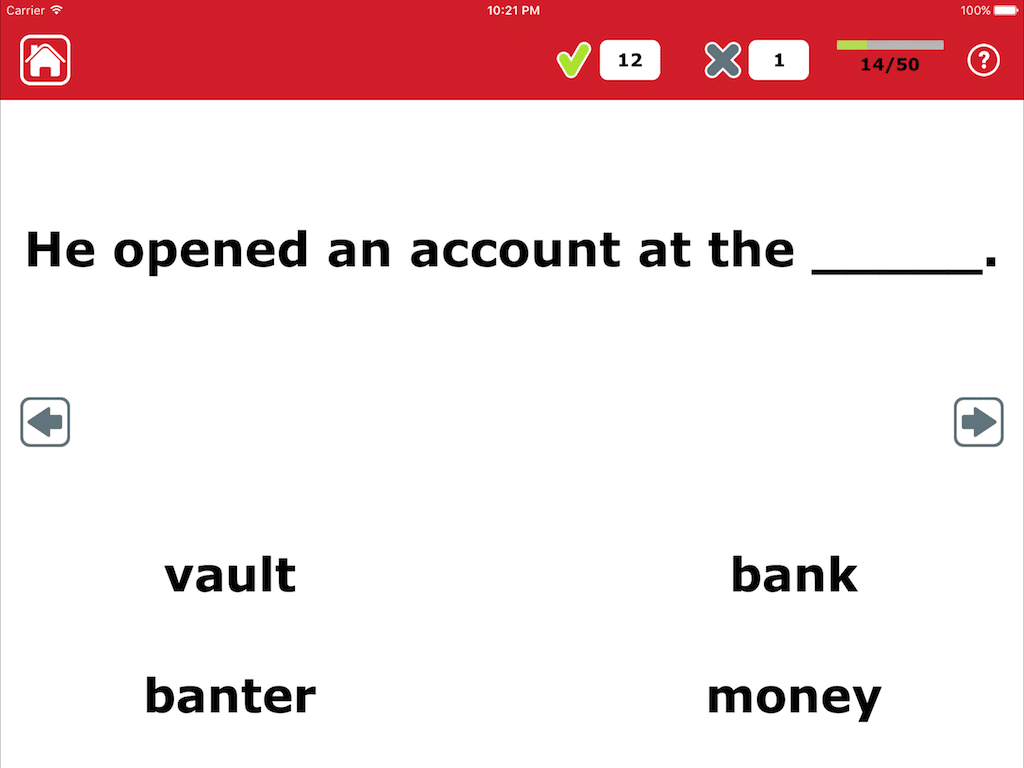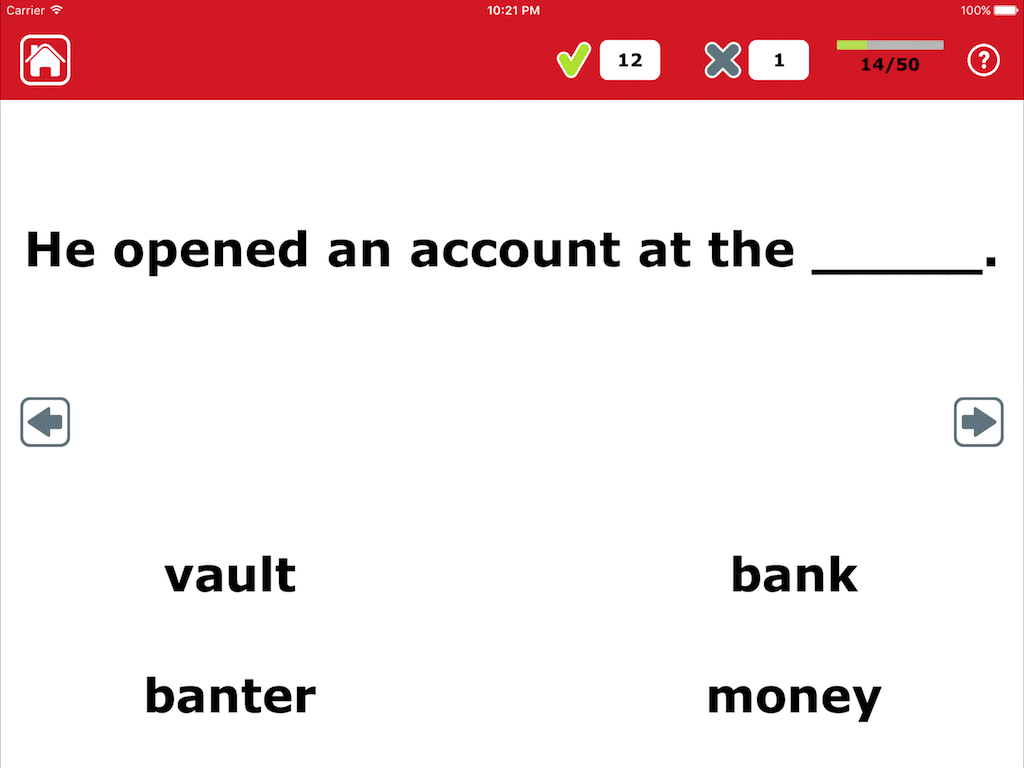 Sentence Completion has tricky answer choices to trip you up if you don't read them all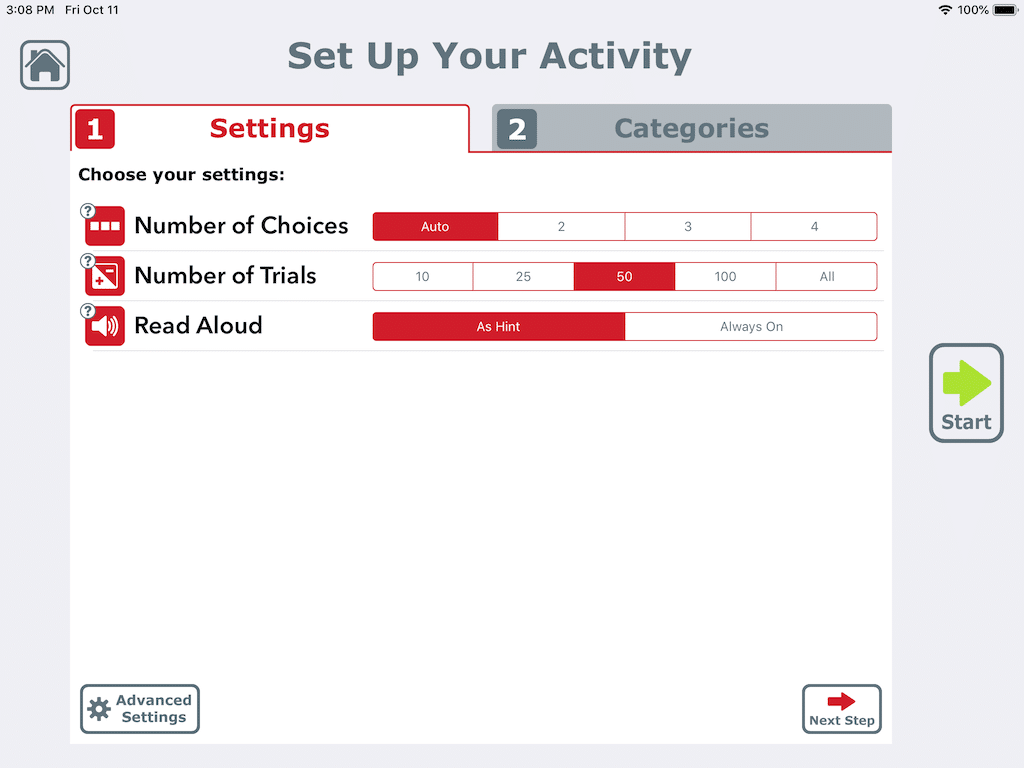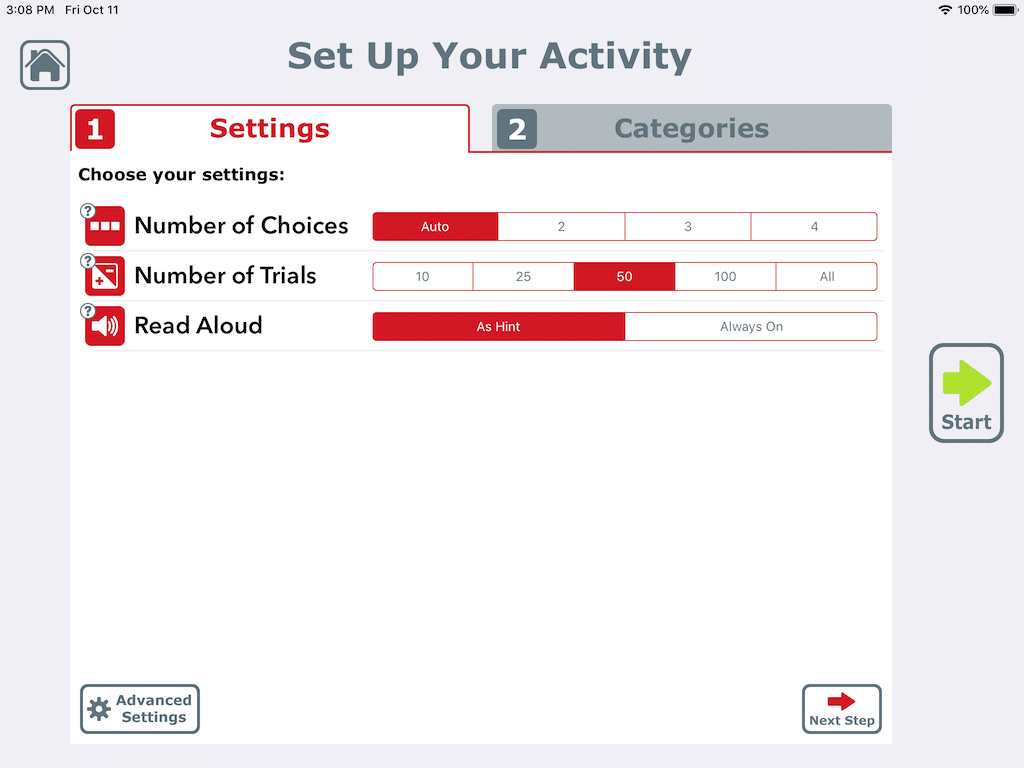 Settings help to customize each session as you go into any activity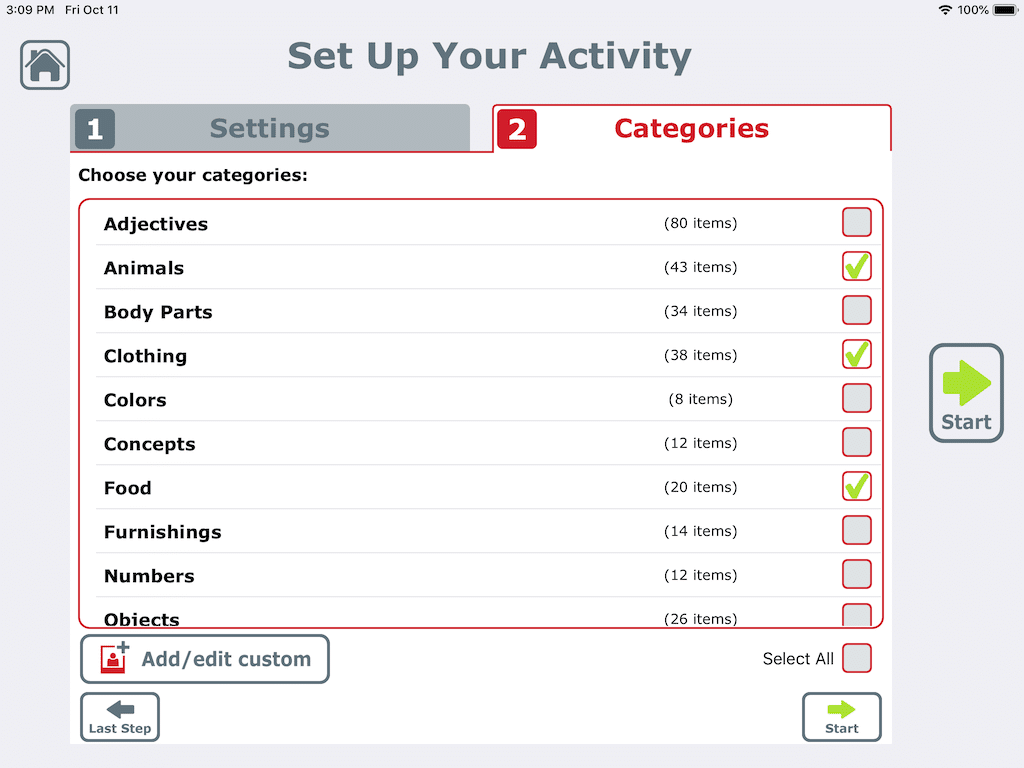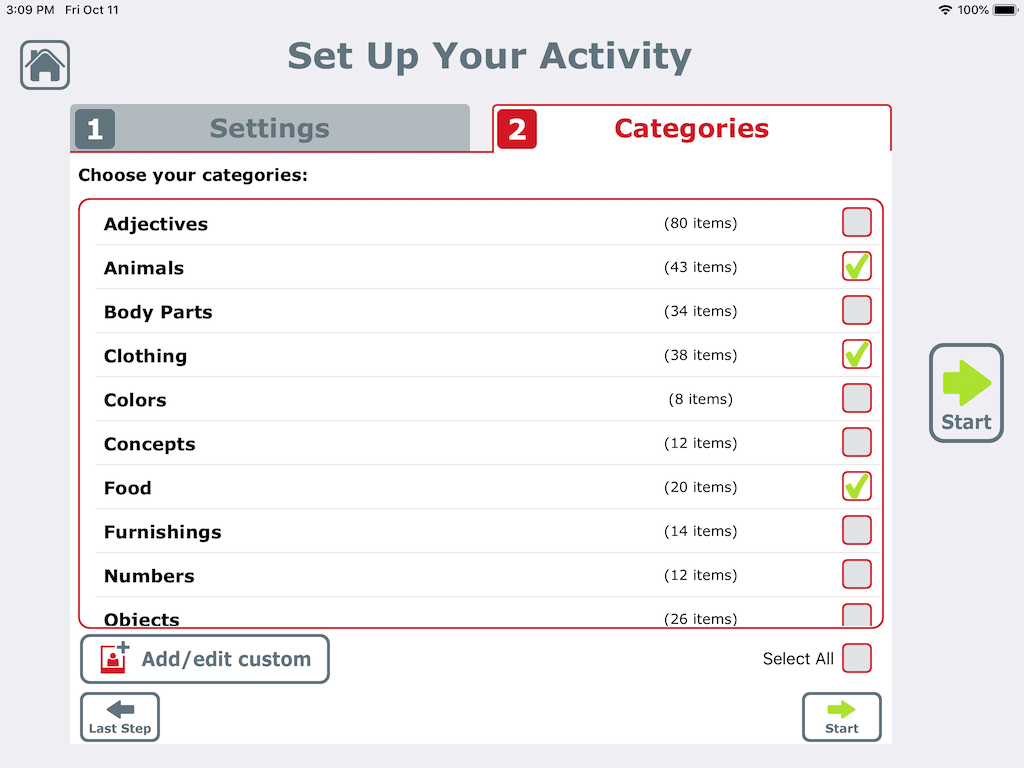 Categories allow you to focus on specific vocabulary or themes and add your own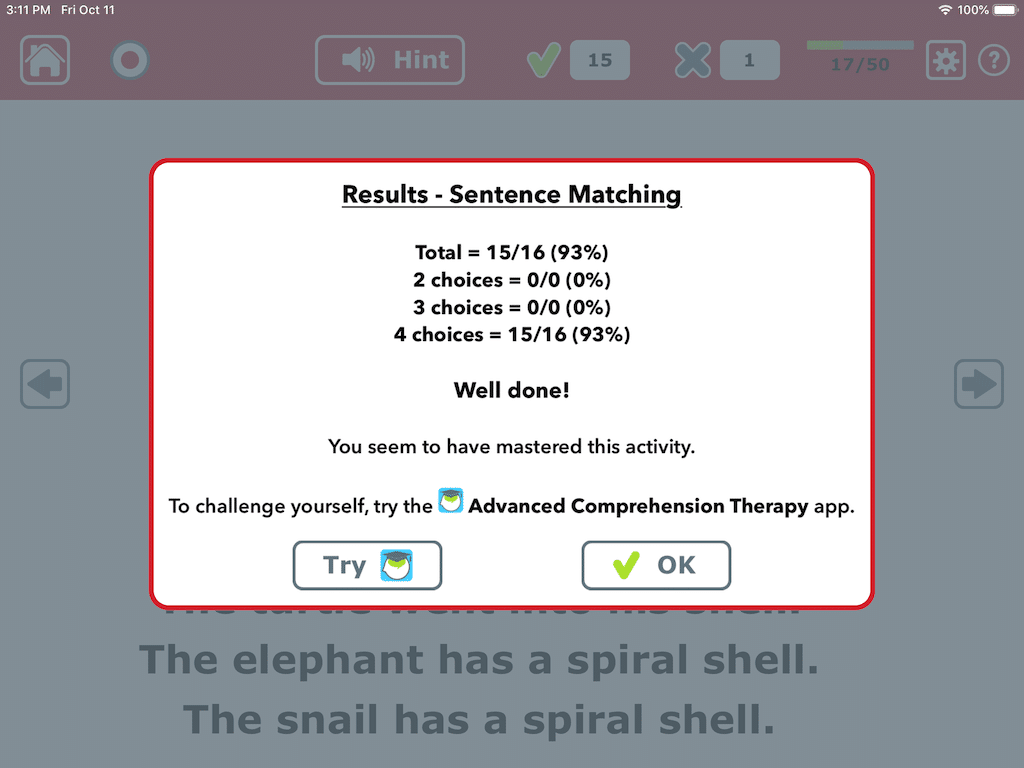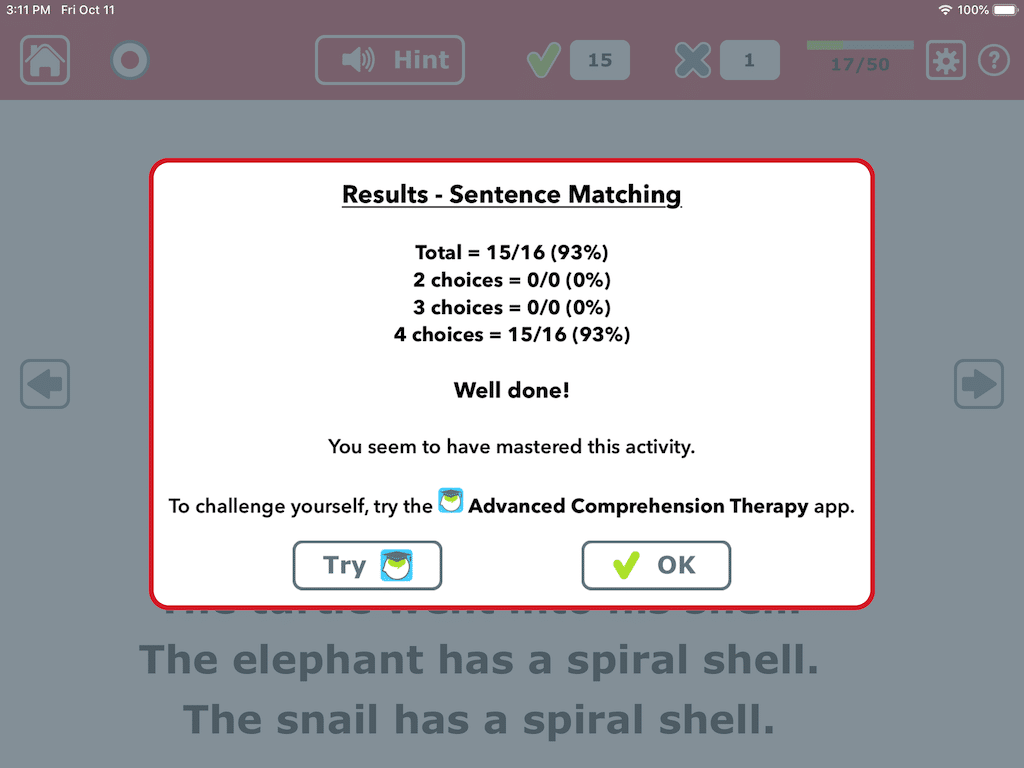 Recommendations guide you to the next activity, setting, or app based on your performance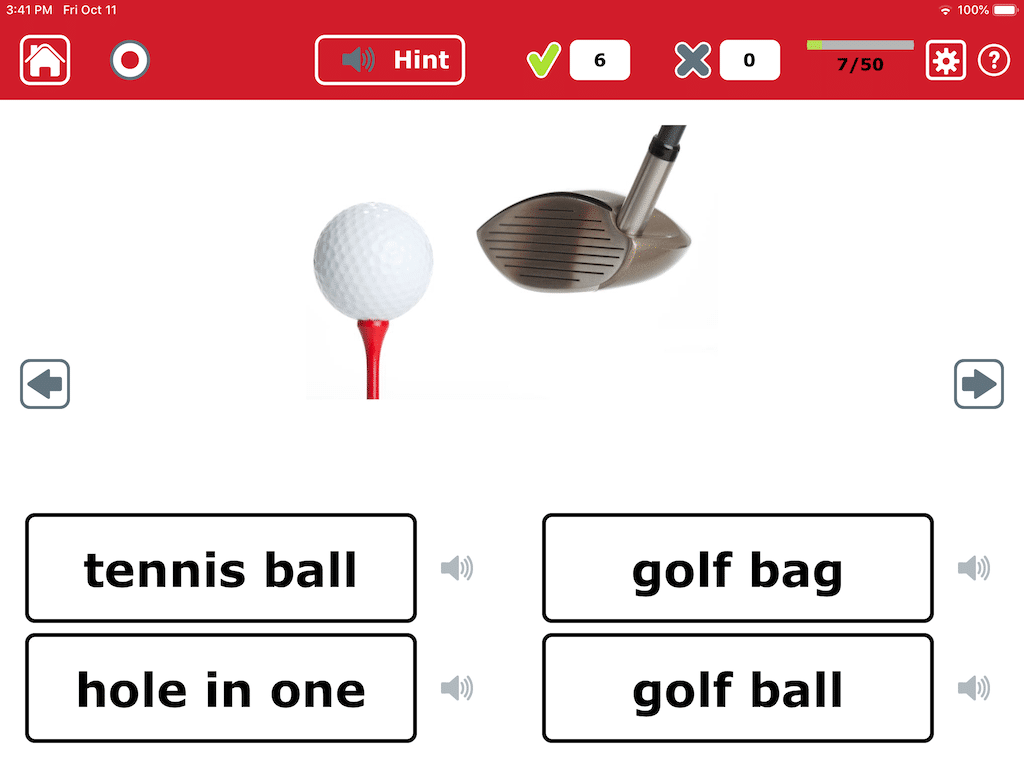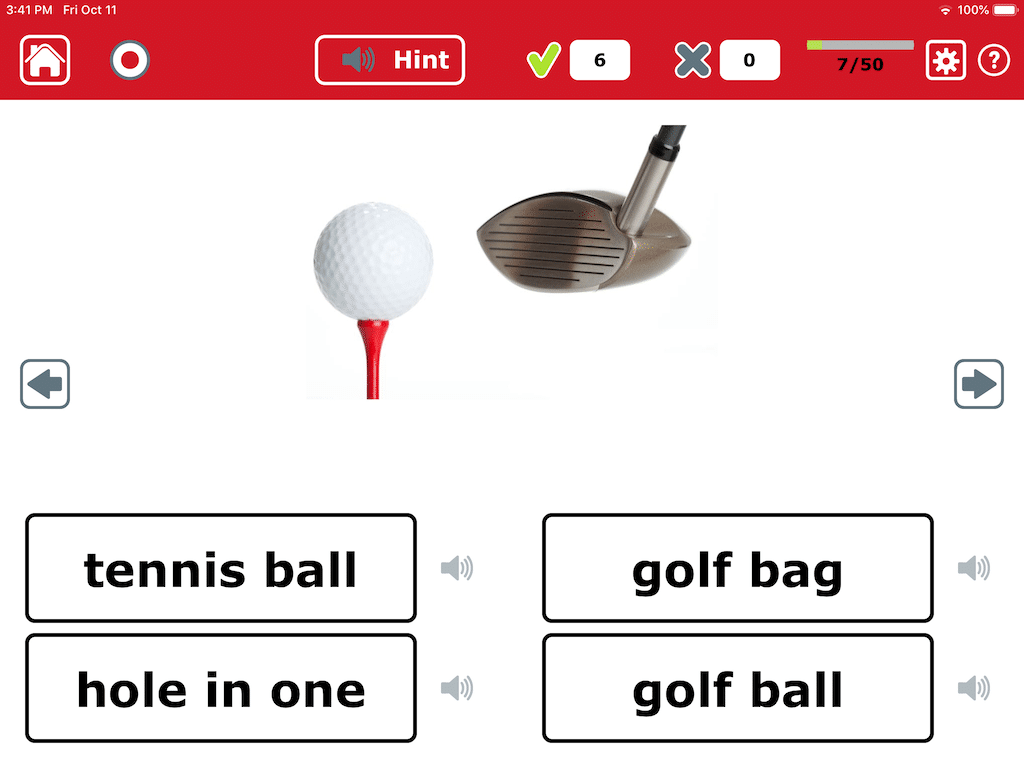 Audio supports are available by touching the Hint button, or set them to be always on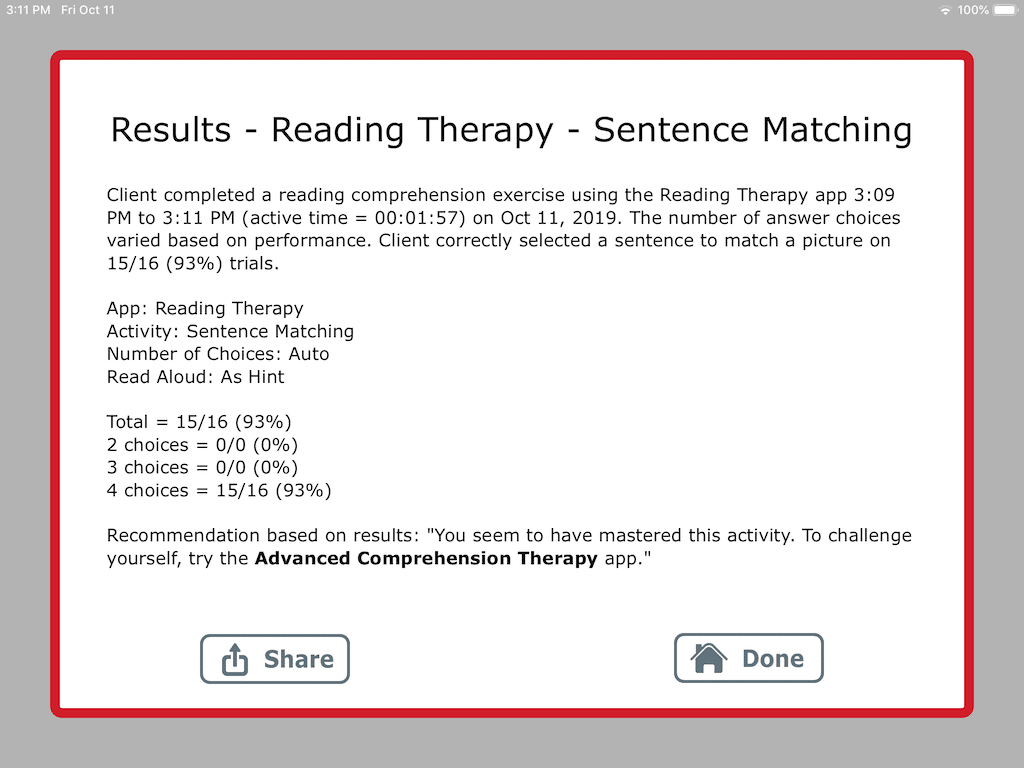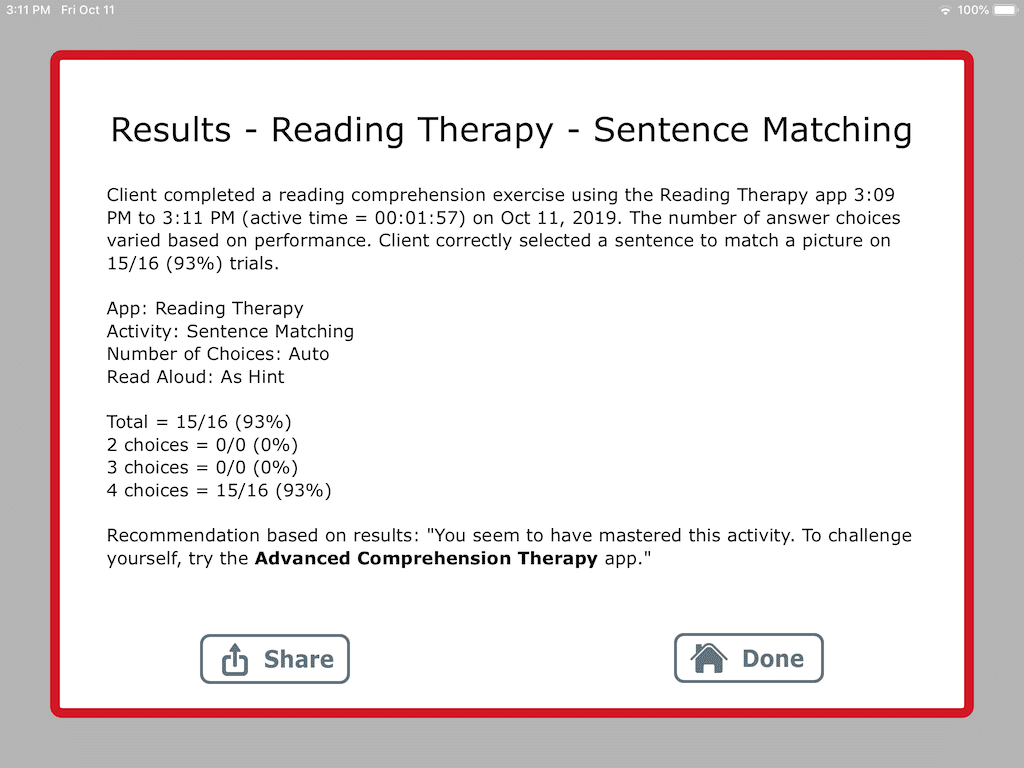 Professional reports for you to e-mail, print, or save
All the Tactus Therapy apps are designed by a certified speech-language pathologist and are based on research and clinical best practices. Learn more about the evidence behind this app.
Try Before You Buy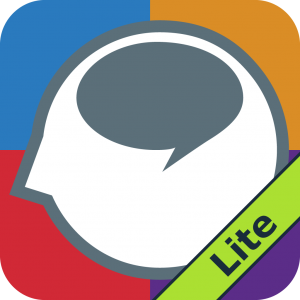 Language Therapy Lite
Download Language Therapy Lite for free on your iOS or Android device for a sample of Reading Therapy. The Lite version allows you to try all the activities in all 4 apps, with just a handful of the thousands of exercises you'll get in the full version.
Power User Tips
Get the most out of this app. Browse these tips from the speech-language pathologist who developed these apps.
Make it Easier
Reduce the Number of Choices to 2. This eliminates the answer choices most likely to be mistaken for the correct answer, so it's easier to get items right.
Make it Harder
Start with the Number of Choices at 4 & use the Sentence Matching and Sentence Completion activities for more to read.
Do More
Read each item and option aloud before answering to get expressive language practice. Turn off the Auto-Advance setting to spend more time on each screen.
Gain Independence
Press Hint to reveal speaker buttons that let you hear the text aloud. After listening to each option, make your selection. If you use the audio a lot, change the Read Aloud setting to Always On so your score won't go down.
Make it Personal
Add your own exercises to any activity in this app to make practice more functional & meaningful. Save photos from the web to the device or take your own.
Make the Best Choice
Read all options to be sure you've selected the best answer, as some choices aren't necessarily wrong, but they're not the best. Pay attention to detail and make wise decisions – important cognitive skills.
¿Hablas Español?
This app can speak English (North American), English (UK), French, German, & Spanish – change your device language for localized menus & reports, or just select the exercise language in the Settings.
Record Yourself
Use the on-screen audio recording to record yourself saying the target word, naming all words on the screen, or using the target word in a sentence and then e-mail those recordings wih the report.
Hints can Help
When you use a hint, the item is marked as incorrect since the target task was not completed, but the use can still complete the task correctly to learn the correct answer and feel successful.
Don't Sweat the Score
For some users, seeing their score is discouraging or distracting. For those who use the hint a lot, it can be deceptive. Turn off the Show Score setting at any time to hide the score from the screen & results (but not the report).
Use with Kids
Use the Child-Friendly setting to remove items with adult themes (like alcohol & weapons) from the app and deactivate the links to outside sites on the home screen.
Don't Forget to Download Your
FREE USER GUIDE
Get the most out of this app when you have all the power user tips & step-by-step instructions. Fill out the form so we can send your free PDF user guide straight to your inbox!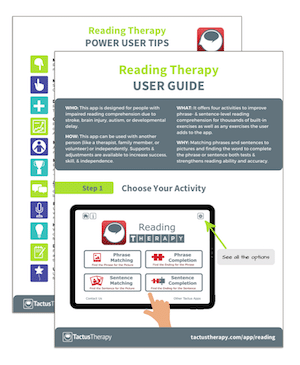 In addition to receiving your free download, you will also be added to our mailing list. You can unsubscribe at any time. Please make sure you read our Privacy Policy and Terms & Conditions.
Start using this app or save with a bundle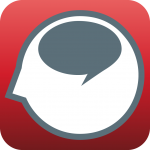 Reading Therapy
Push your reading to the phrase and sentence level with multiple-choice exercises for stroke survivors.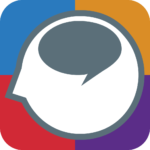 Language Therapy 4-in-1
Boost speaking, listening, reading, & writing for words with a scientifically proven speech therapy app for people with aphasia.