Imagine walking into a session with just your tablet and knowing that you're ready for whatever you see.
When you use Tactus Therapy apps, you'll feel confident that you have the tools you need to deliver evidence-based and effective speech therapy. You'll have reliable apps that provide engaging stimuli for your sessions, and the home practice your clients need to improve.
You don't want another workbook. We get it. These apps have been designed by a speech-language pathologist like you, based on the techniques that have been shown to work, with the flexibility required to treat a wide range of clients and abilities.
Outsource the repetitive tasks to the apps, and deliver the kind of therapy only you can provide.
Our apps are about giving you the speech therapy tools you need to teach strategies, promote independence, and work on personally-meaningful goals – and about giving your clients a motivating home program to promote neuroplastic recovery.
Using Tactus Therapy apps means you don't have to worry about what stimuli you're going to present or keep tallies for your report. It means you're free to be the amazing clinician you are, delivering person-centered care that helps your clients reach their goals.
Spend more time helping people communicate. We'll help with the rest.
Flexible settings allow you to adjust to your clients' needs and personalize the therapy
Beautiful photos that are clear & engaging with topics ideal for adults & older students
Feedback, scoring, & data collection are built-in to allow you to focus on your client
Professional reports are automatically generated to track results & progress
Work efficiently. Get better outcomes. Make a difference.
It's easy to get started:
FREE DOWNLOAD:
A quick guide to 15 evidence-based treatments for improving verbal expression in aphasia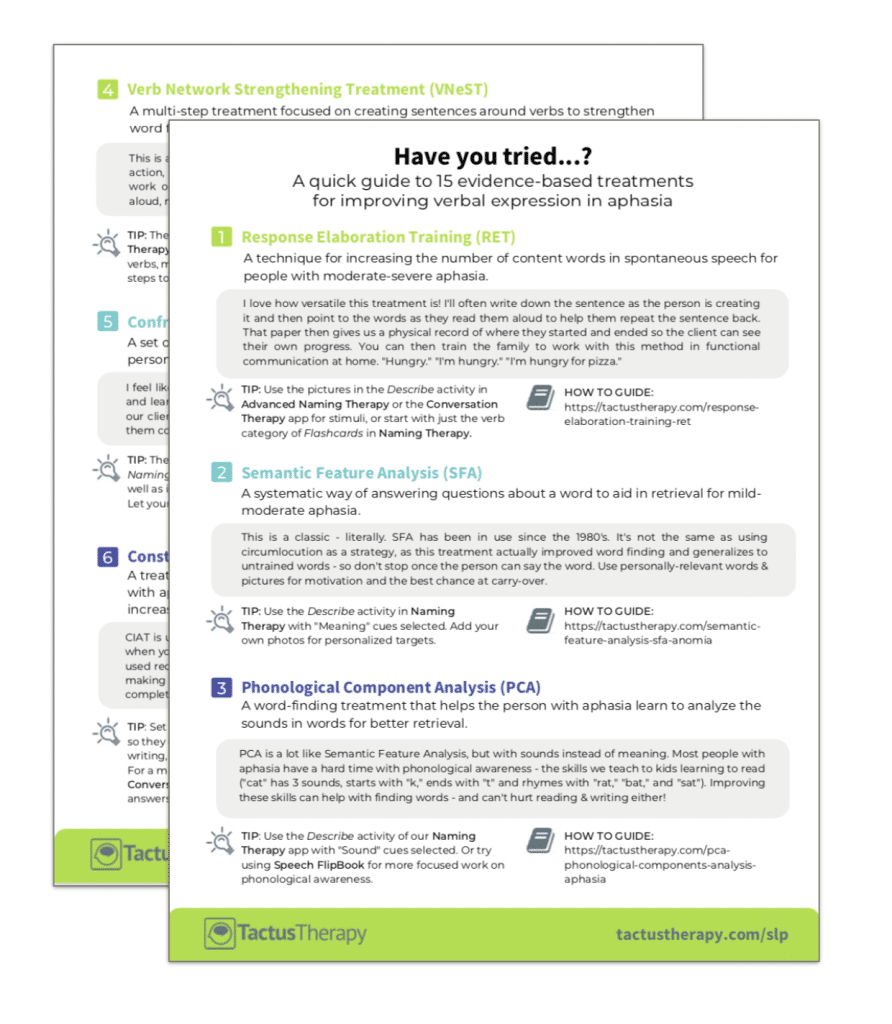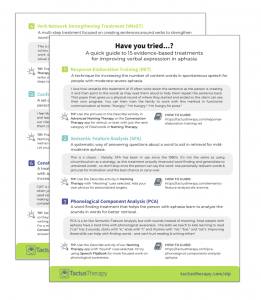 Have you tried… everything? Improve your patient outcomes when you use techniques & tools that are known to work. Download this free list of the top evidence-based treatments that will help your patients do what they want to do most: talk.
"What a valuable resource! It will remind you of all the options when you or your client get stuck and you're not sure what to try next."
In addition to receiving your free download, you will also be added to our mailing list. You can unsubscribe at any time. Please make sure you read our Privacy Policy and Terms & Conditions.
No subscriptions. No log-ins. No Wi-Fi. No privacy concerns.
Just user-friendly speech therapy tools that work the way you do.