Testing and Treating Left Neglect
Just Got Easier!
Visual Attention Therapy helps people with visual neglect improve awareness of the neglected side of space. Throw out those old cancellation worksheets that don't provide feedback and bring your treatment into the 21st century!
Unlimited exercises provide the intensity of practice you need to change the brain and improve:
These interactive cancellation exercises provide errorless learning along with visual & auditory feedback to retrain the eyes to move from left to right across the whole screen. With automated scoring and adjustable difficulty, you'll never go back to paper exercises again!
See Visual Attention Therapy In Action
Practice at Home or Use at Work
Race against the clock to improve thinking & reading skills
Practice as much as you want, when you want, on your own
Track your progress, and adjust the difficulty as you improve
Don't just tell your patients to look to the left – train them
Modernize your cancellation exercises & save paper
Save time with automated scoring and professional reports
Here's What People are Saying about
Visual Attention Therapy
Thanks for yet another amazing release!
This app ticks all the boxes!
What You'll Get in
Visual Attention Therapy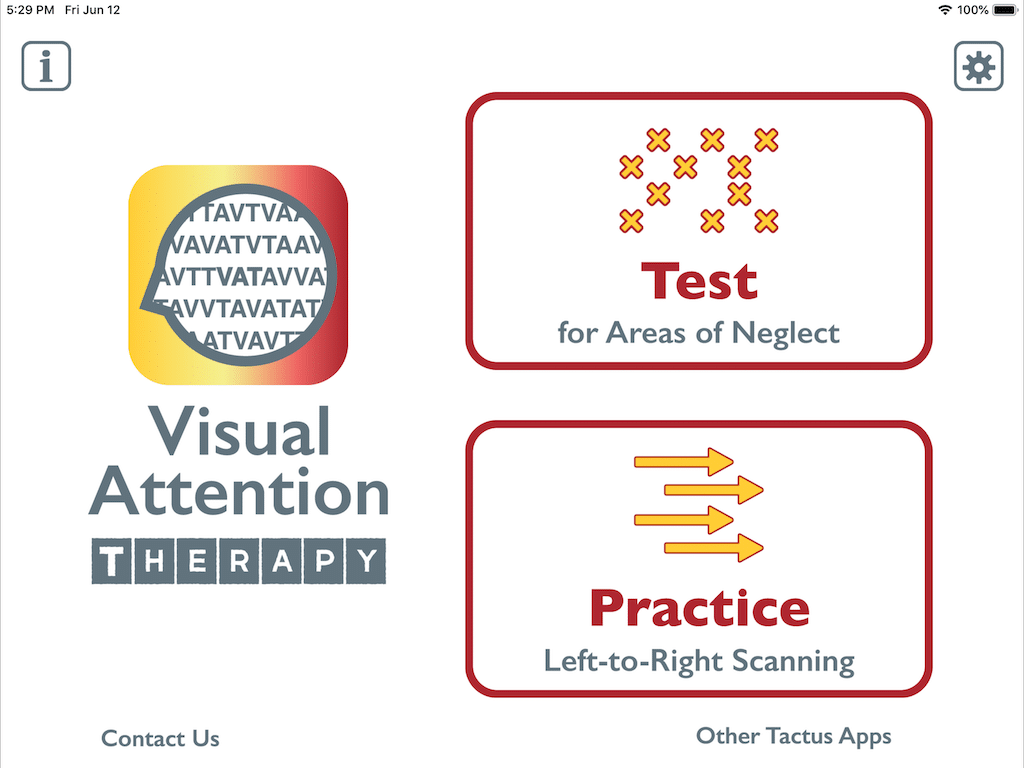 Two activities provide thousands of cancellation tasks for assessment and therapy
Test allows users to touch anywhere on the screen to find the target
Practice requires users to find targets in order from left to right, top to bottom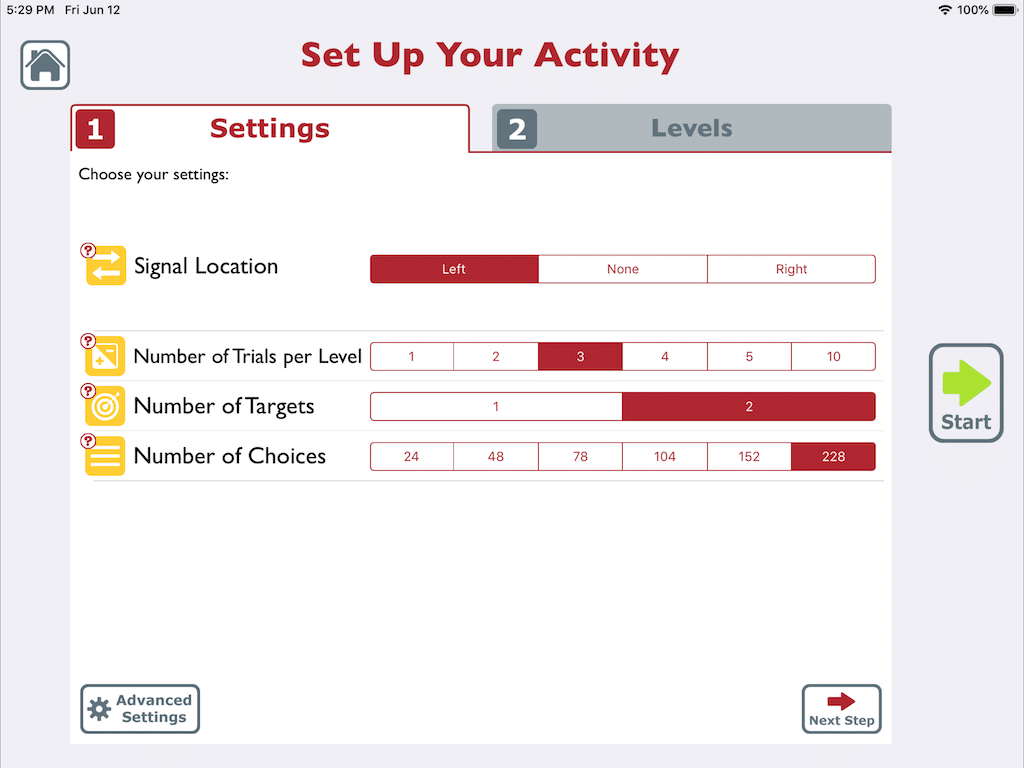 Adjustable settings allow you to customize the experience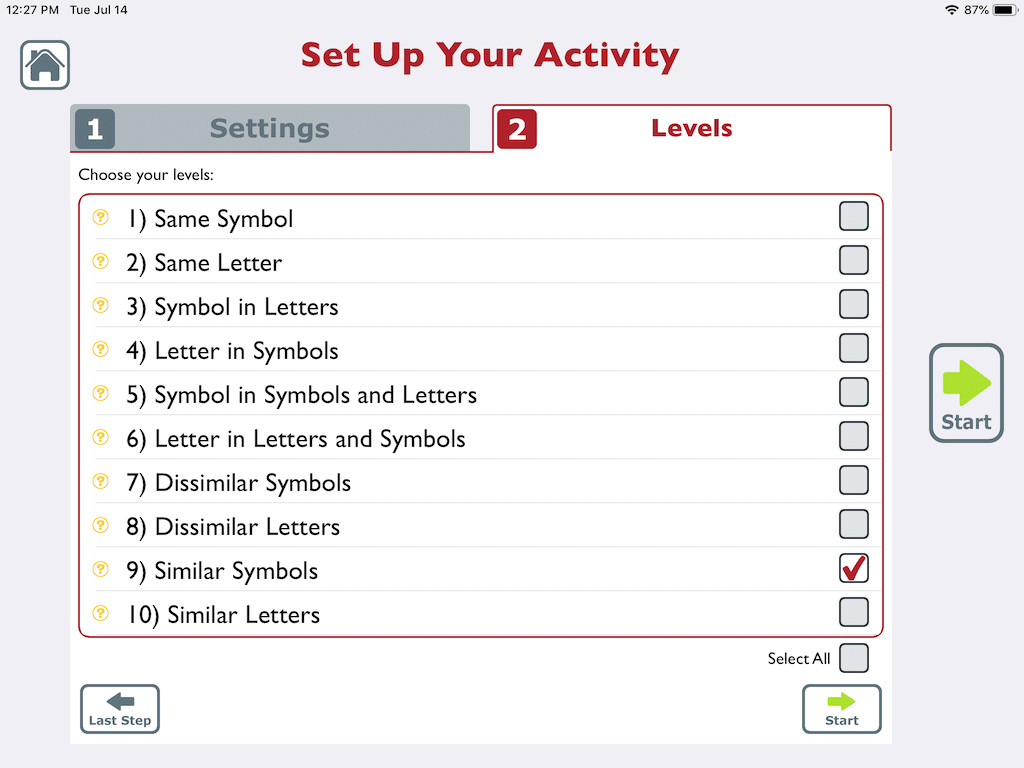 10 levels of difficulty allow you to adjust as users progress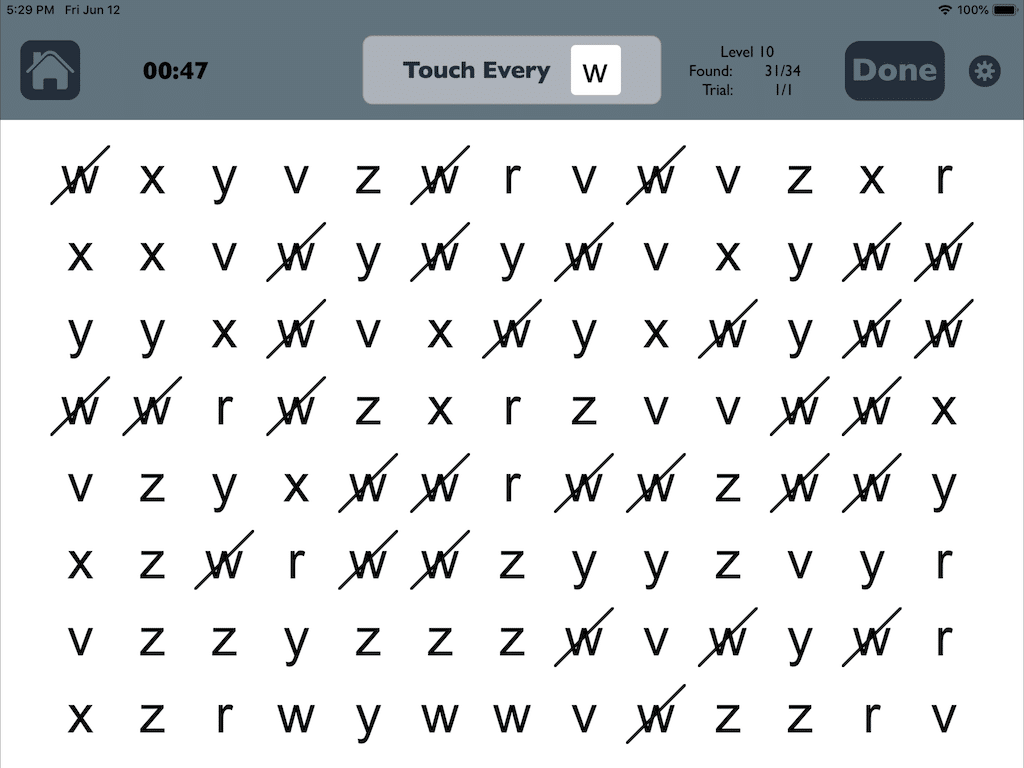 Immediate feedback with visual and auditory cues and an on-screen timer to encourage speed and accuracy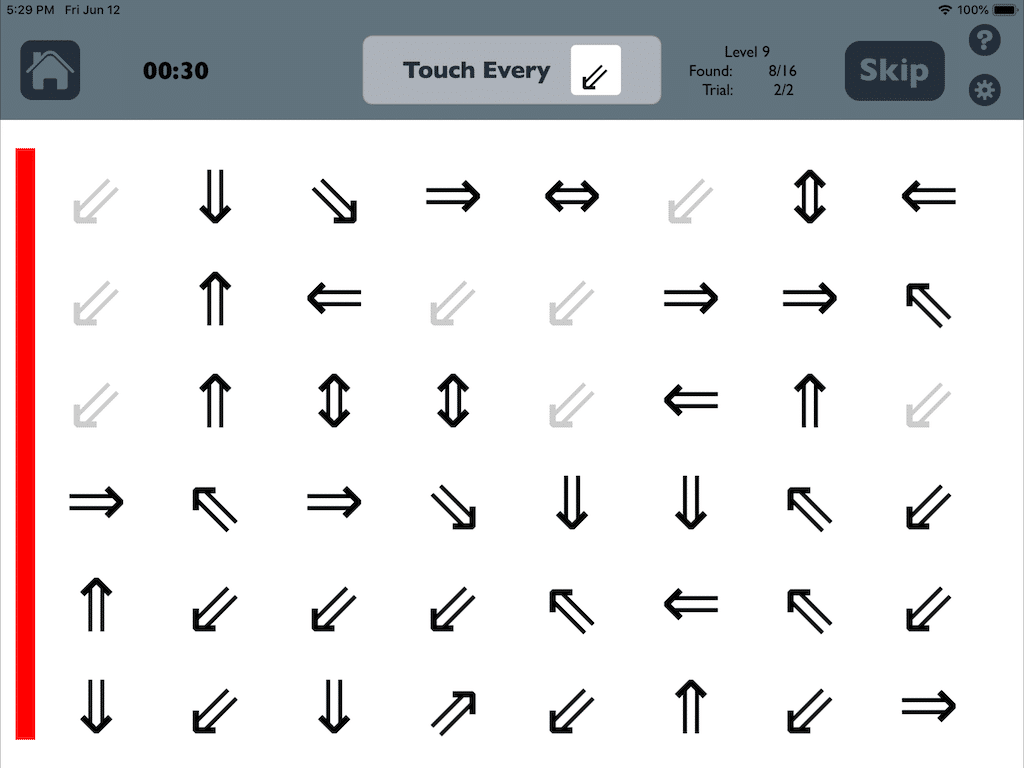 Sidebar signal can flash in a variety of colors to draw attention to the left or right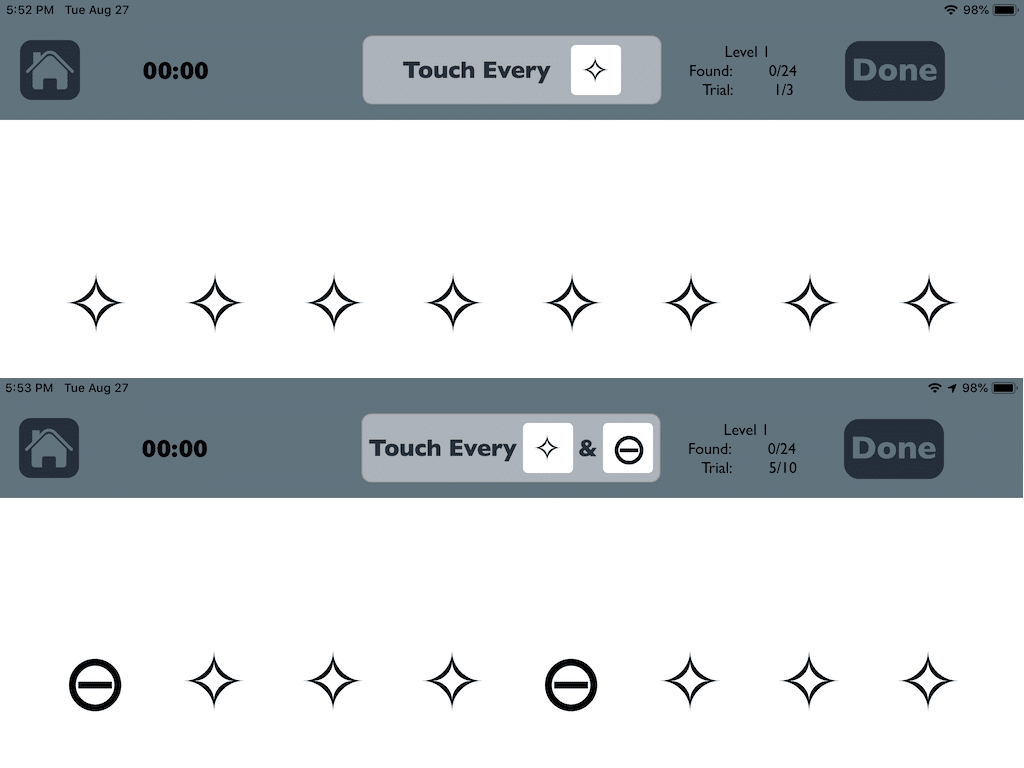 One or two targets to focus on scanning or challenge working memory and alternating attention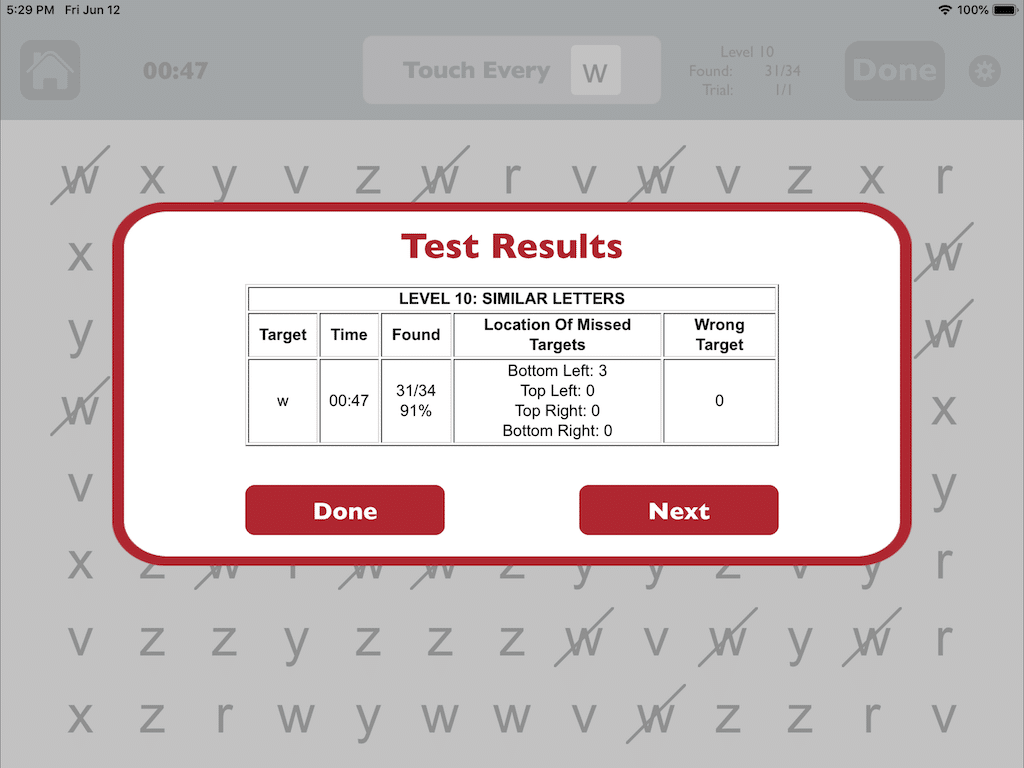 Automated scoring breaks down accuracy by quadrant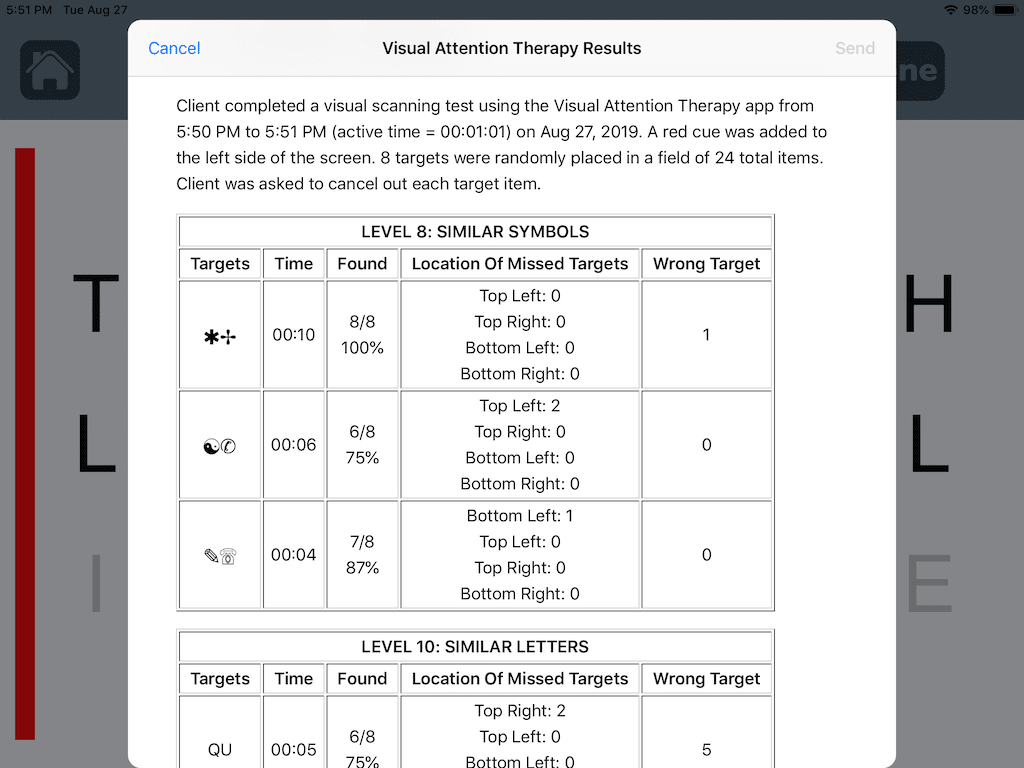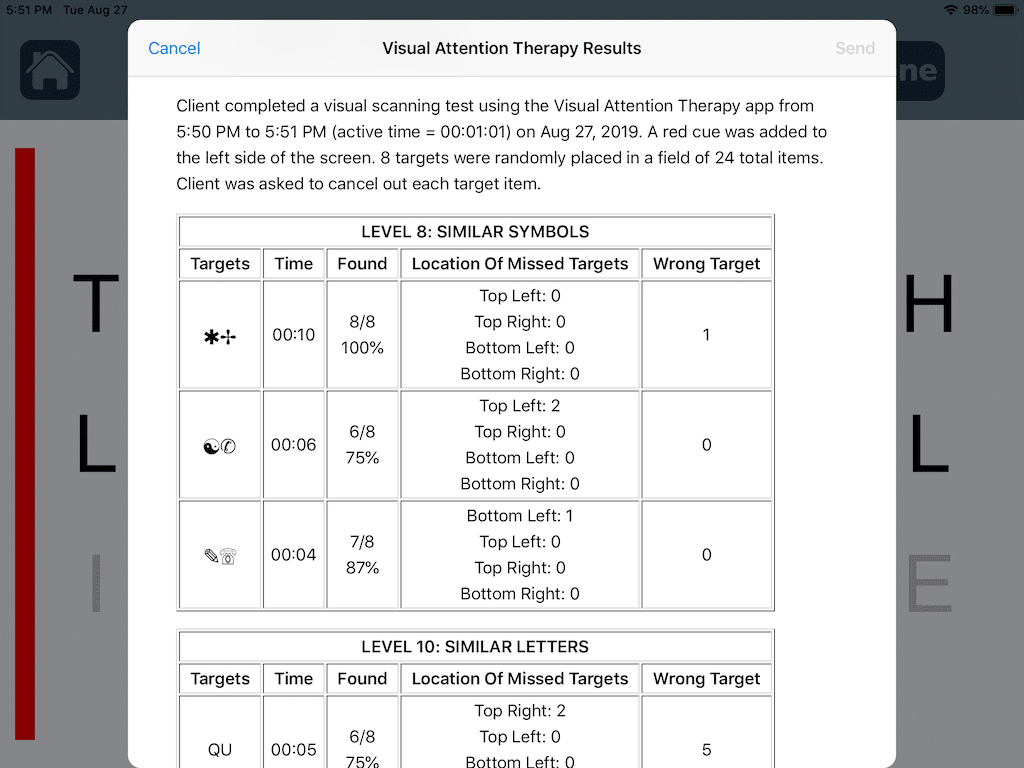 Professional reports for you to e-mail, print, or save
All the Tactus Therapy apps are designed by a certified speech-language pathologist and are based on research and clinical best practices. Learn more about the evidence behind this app.
Try Before You Buy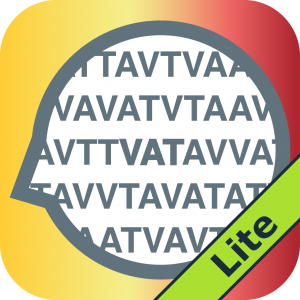 Visual Attention Therapy Lite
Download Visual Attention Therapy Lite for free on your iOS or Android device for a sample of the full version. The Lite version allows you to try both activities using one or two targets with all the different signal options and cancellation styles, limiting you to just one level and size.
Power User Tips
Get the most out of Visual Attention Therapy. Browse these tips from the speech-language pathologist who developed this app.
Pick Your Goal
Use Visual Attention Therapy to assess and treat left neglect, right neglect, attention deficits, working memory impairments, slow speed of processing, initiation problems, and reading problems.
Client Profiles
The deficits addressed by this app are common in people with strokes (especially right CVAs), dementia (Alzheimer's and other types), brain injury (TBI), and other cognitive disorders.
Start at the Right Level
Don't automatically select all target levels. Choose only the levels that offer sufficient challenge. You'll find 10 options on the Levels tab arranged in order of difficulty.
Make it Easier
Select 1 target, the fewest number of items, and Level 1: Same Symbol or Level 2: Same Letter. This will focus on sustained attention as the user hits every single item on the screen.
Make it Harder
Select 2 targets, the most number of items, and Level 9: Similar Symbols (to exercise the visuo-spatial sketchpad of working memory) or Level 10: Similar Letters (to exercise the phonological loop of working memory).
Create a Challenge
Race against a previous time or score to encourage faster processing speed and accuracy. Set a target to beat, but don't always trade time for accuracy. Make therapy fun and engaging!
Functional Therapy
If better reading is the objective, choose levels featuring letters. The closer therapy is to the functional outcome, the better and faster it is likely to work. Even-numbered levels use letters.
Build Insight
Take a screenshot after completing the Test but before pressing Done. This will give you a visual record of missed targets for users with decreased awareness of their neglect. Review the image to build insight and discuss strategies.
Generalize Outside the App
We give you four signal color options to allow you to match the app with the color of painter's tape you might be using on doorways, tables, and trays around the rehab unit or home for consistency.
Increase Independence
Start with a flashing signal to draw extra attention to the neglected side. Once the user has a high success rate, fade the signal to a solid color, then remove it altogether for better generalization.
Don't Forget to Download Your
FREE USER GUIDE
Get the most out of this app when you have all the power user tips & step-by-step instructions. Fill out the form so we can send your free PDF user guide straight to your inbox!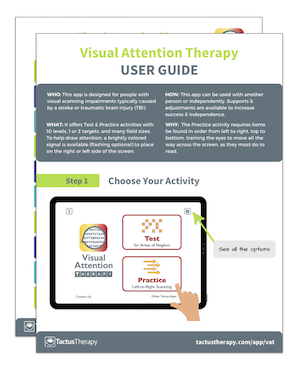 In addition to receiving your free download, you will also be added to our mailing list. You can unsubscribe at any time. Please make sure you read our Privacy Policy and Terms & Conditions.
Start using this app or save with a bundle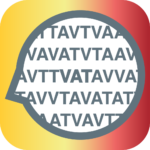 Visual Attention Therapy
Retrain the brain with interactive cancellation exercises that help you assess and treat left neglect.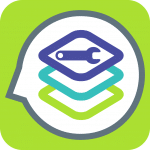 Tactus Clinical Tools
Grab all 5 of our best apps for clinicians in this discount iOS app bundle covering AAC, speech, swallowing, & cognition.