Imagine you could help your loved one communicate better– just by giving them the right tools.
Losing the ability to clearly express your ideas after a stroke or brain injury is devastating. And not just for the person who survived, but also for the loved ones. Fortunately, speech therapy can help.
But even if you're lucky enough to get into rehab, there's rarely enough time. The specialized exercises must be repeated every day, and not everyone has access to speech therapy. You deserve more.
Ease the struggle of communication after a stroke.
Get faster results using Tactus Therapy at home.
Interactive & Motivating
It's like having a therapist in your device, giving you feedback & measuring your progress
Affordable & Convenient
Get the practice you need from the comfort of home on your schedule & within your budget
Each Tactus Therapy app is designed by an expert speech-language pathologist – based on researched techniques & years of clinical practice. We know what you need to improve.
Speech therapy at home is easy:
FREE DOWNLOAD:
50 Things You Can Do Right Now to Help Your Loved One with Aphasia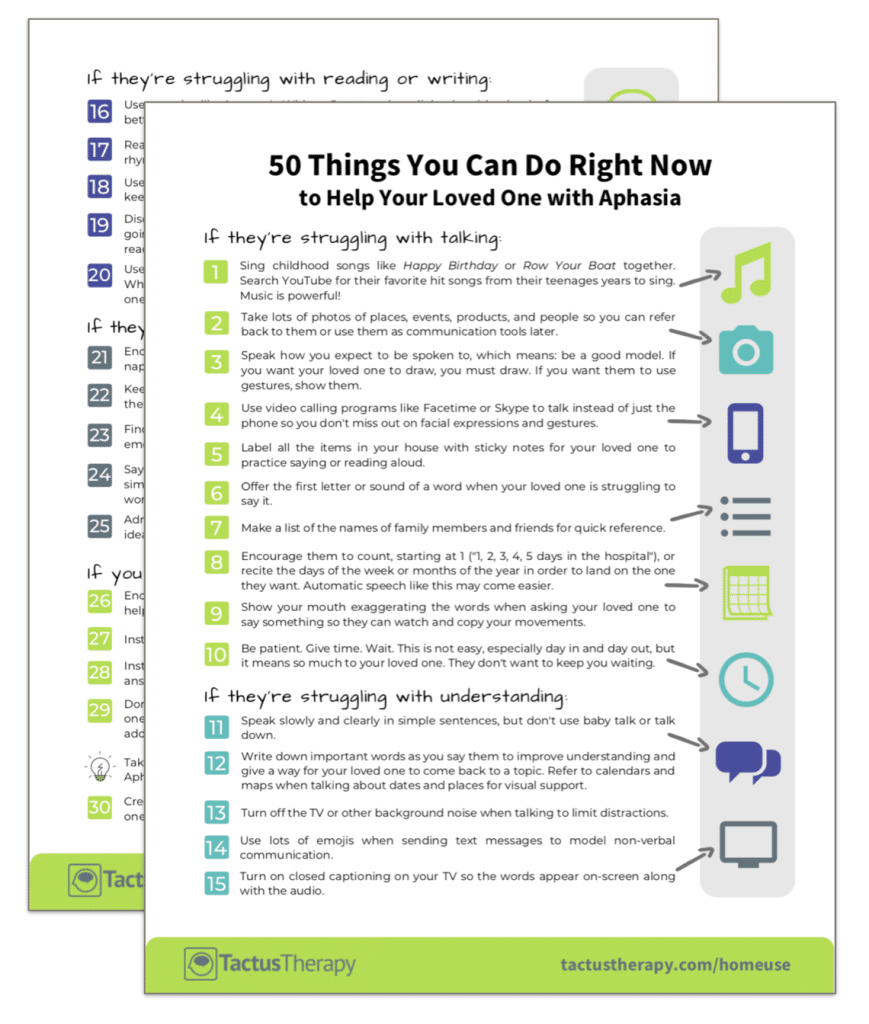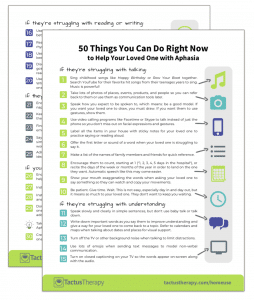 Get this valuable list of tips delivered to your inbox so you'll feel confident you're doing everything you can to help the person in your life who is struggling to communicate.
"This is a great resource! I especially like the tips on self-advocacy & making the most of time together. These are areas that SLPs don't always remember to include, but are so important. This concise resource gives functional suggestions you can put into action right away!"
In addition to receiving your free download, you will also be added to our mailing list. You can unsubscribe at any time. Please make sure you read our Privacy Policy and Terms & Conditions.
You won't give up. We understand.
Today's scientists are discovering amazing things about neuroplasticity – the brain's ability to heal, even years after a stroke. We're harnessing the power of repetition, intensive practice, motivation, & hope and using technology to deliver these tools for recovery to you to get speech therapy at home.
Using Tactus Therapy apps means your progress isn't limited by therapy caps or weekly sessions – you can practice as much as you want, whenever you want. And you can personalize & customize these apps to target what matters most to you.
Take control of your recovery with apps that are recommended & trusted by top speech therapists around the world. Progress is always possible.
Another breakthrough with these apps!
All rehab facilities should have your apps!
The most progress he's made in his rehab in 6 years
Helps my husband tremendously!
No subscriptions. No log-ins. No Wi-Fi. No privacy concerns.
Just user-friendly, affordable speech therapy exercises that help people get better.