3 Essential Continuing Education
Services for Medical Speech Pathologists
5 min read
Are you a medical SLP who needs a few more continuing education hours? Maybe you're just a few hours away from an ACE Award from ASHA. No matter the count, we know it's important to keep up with the latest information in our field. We're lifelong learners. We owe it to our patients to make sure we're delivering the best treatments and thinking about therapy the right way.
So that's why I truly believe in these services and want to share them with you. They each cater to a different learning style, and you don't even have to leave home.
1) MedBridge Education
Everyone and their mother seems to be promoting MedBridge for continuing education these days, so I'm going to jump on the bandwagon and tell you why I totally believe you should join.

MedBridge offers video CEU courses from top experts. If you're a medical SLP, you'll recognize several names of the instructors – the leaders in our field. Learn about voice from Dr. Stemple, swallowing from Dr. Groher, aphasia from Dr. Hinkley, TBI from Dr. Turkstra – you get the idea. This is a highly selective list of instructors presenting video classes you can watch in your home anytime.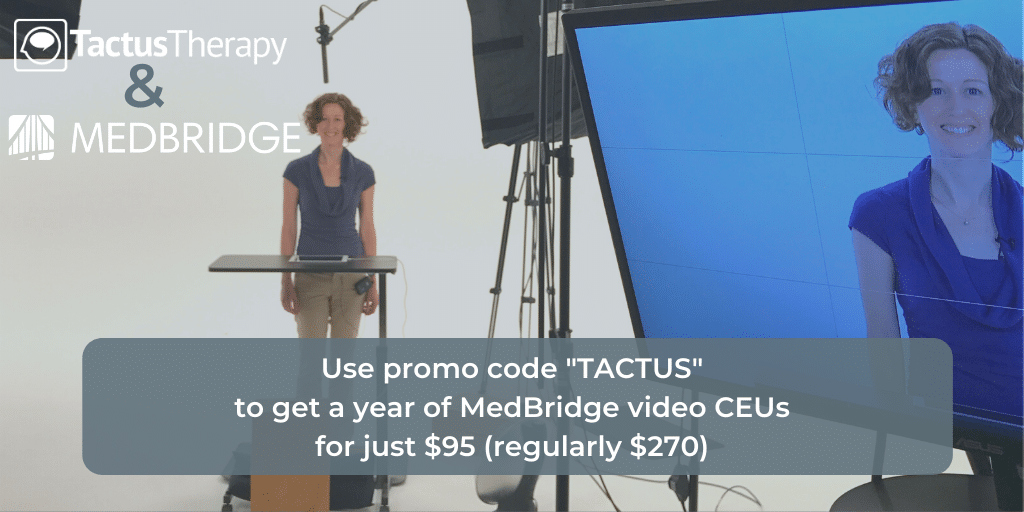 I'm a MedBridge instructor myself. I have 2 courses on using apps in aphasia: Integrating Apps into Aphasia Therapy and Communicate and Connect: Using Technology with Aphasia. Like all instructors, MedBridge helped me create comprehensive courses, brought me to Seattle, made me stand in front of a camera for a full day, and then put me through the wringer for editing, learning outcomes, and enhancing the course with helpful visuals. This is what makes their courses far superior to any audio- or text-only course. There are so many titles I can't wait to watch!
If you join MedBridge now using our affiliate code "TACTUS", you'll get the full membership for just $95/year (instead of $270) or the enhanced membership for $145/year (instead of $320). And once you join, I'd love it if you'd check out my courses too!
2) The Informed SLP
This is a business I wish I had started – it's so cool. Highly-skilled clinicians and researchers read through ALL the journals each month looking for clinically-applicable articles. Then they read and summarize those articles and put out a monthly overview. That means you're always up to date on the latest research you can use, and you'll know far more than just reading the abstract. And then when you have a question, you can search the archives to find the articles you need.

The Informed SLP is only $7 a month or $76 a year, and when you use coupon code "Tactus10" you'll save $10 on any purchase. (I have the annual subscription and love it! )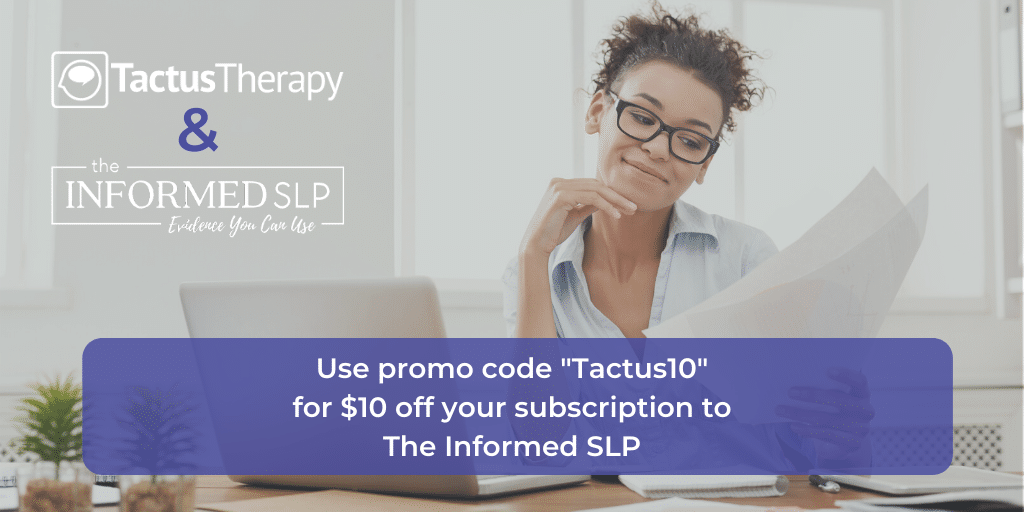 The Adults section offers text and audio options for learning. I'm always excited to get the new reviews and have learned so much from reading the summaries. There are even a few text-based CEU courses on dysphagia, cognitive-communication, and aphasia sold separately if you want to take a deep dive into the updates in one area.
Nobody can keep up with all the research on their own, let alone afford to subscribe to multiple journals, so let The Informed SLP keep you up to date so your colleagues will refer to YOU as the informed SLP. (See what I did there? Ha!)
3) The Medical SLP Collective
Maybe you've heard Theresa Richard on the Swallow Your Pride podcast? She's an SLP warrior for evidence-based dysphagia practice. She created a membership service called The Medical SLP Collective that takes her passion for better practice and combines it with clinical experts in all areas of medical speech pathology to help everyone be "better together". There are CEU courses, a library of handouts and done-for-you inservices, and a vibrant Facebook community of members who ask challenging questions and get detailed answers from people they trust.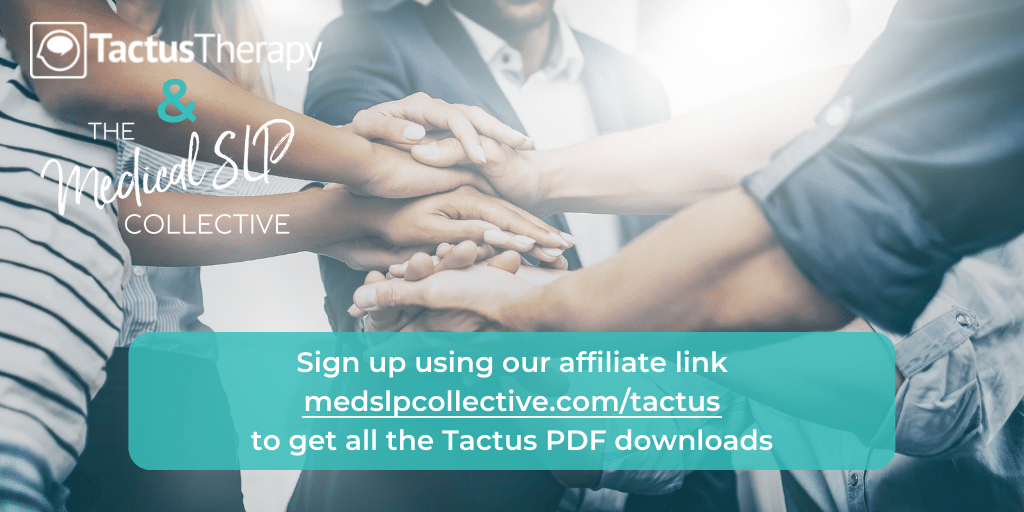 You see, Theresa actually hires professors and clinical experts to answer your questions. So instead of the typical Facebook group post that gets 10 questionable answers, or maybe no answers at all, each question you post in the Collective group is guaranteed a high-quality answer from an expert. As one of these "mentors", I spend several hours a week answering aphasia, cognitive-communication, and technology questions in the group. And if I don't know the answer, one of the other mentors will get it.
Honestly, I am blown away by the knowledge in this group. All answers must be backed up with more than just "this is how we do it", and the members follow strict guidelines to keep the community clean, efficient, and effective. The members are high achievers who share their wins and support each other. Nobody is afraid to post in fear of getting snarky replies – that doesn't happen here.
This group only opens a few times a year so that not all Theresa's time is spent on marketing, but rather on creating great content and ensuring a good experience. The doors open again on September 2, 2021, so get in while you can!
If you use our link, we'll give you access to all 50+ handouts on the Tactus site in one easy download as a way of saying thanks!
I appreciate you using the affiliate codes and links here if you're going to sign up for any of these continuing education services. They let the businesses know where you heard about them, and they give a small amount back to us for spreading the word. There's no extra cost to you, and in fact, two of these codes actually save you money! Feel free to share these links and codes with your colleagues so we can all save, learn, and better serve our patients.
If you liked this article,
Share It !