Healing the Broken Brain: An Essential Guide to Stroke Recovery
5 min read
Imagine you or your loved one has just had a stroke. Your life has turned upside down. What would you give to be able to sit down with the top rehab experts and ask them your questions? Now you can get those answers in an easy-to-read Q&A format in this popular book: Healing the Broken Brain – Leading Experts Answer 100 Questions About Stroke Recovery.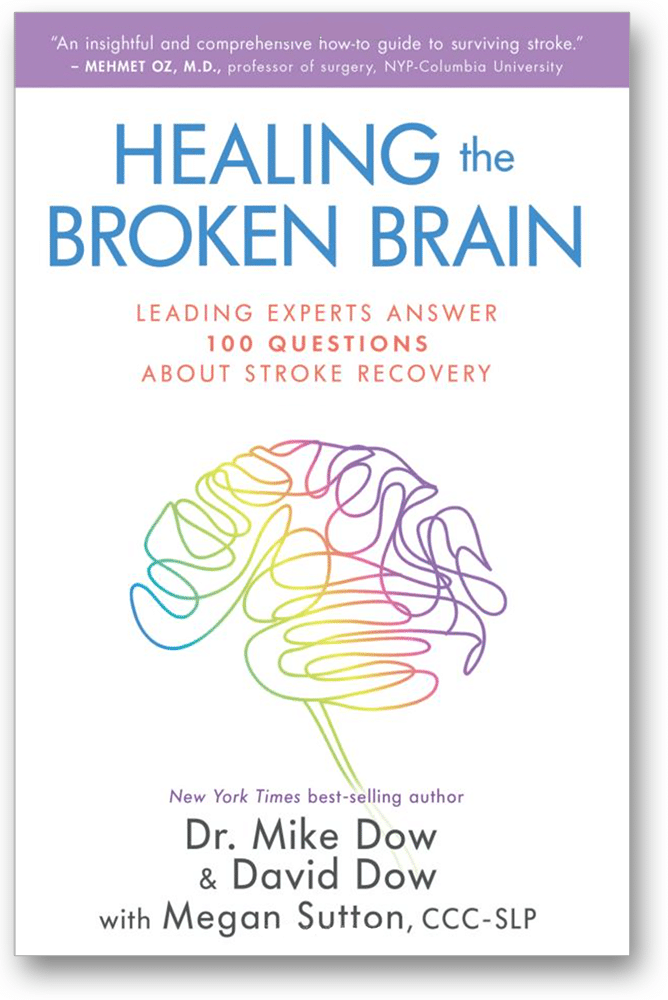 [*affiliate links]
Leading Experts Answer Your Questions
We asked top experts in 9 healthcare professions to answer questions from stroke survivors and caregivers. "What would you do if your family member had a stroke?" "What's the latest research telling us about recovery?" We picked their brains in a friendly conversation to get answers that everyone could understand. These 14 distinguished professionals volunteered their time and expertise:
Dr. Thomas Carmichael, UCLA, Neurology
Dr. David Chiu, Houston Methodist, Neurology
Dr. Elliot Roth, Northwestern, Physical Medicine & Rehabilitation
Dr. Jan Hinkle, AANN Past President, Nursing
Dr. Michelle Ploughman, Memorial University, Physical Therapy
Dr. Dylan Edwards, Cornell, Physical Therapy
Dr. Stephen Page, Ohio State, Occupational Therapy
Dr. Glen Gillen, Columbia, Occupational Therapy
Dr. Mary Ellen Stoykov, Rush University, Occupational Therapy
Dr. Audrey Holland, Arizona, Speech-Language Pathology
Dr. Jackie Hinckley, Voices of Hope, Speech-Language Pathology
Dr. Amanda Toler Woodward, Michigan State, Social Work
Dr. Janice Elich Monroe, Ithaca, Therapeutic Recreation
Ms. Sarah Thompson, Rehabilitative Rhythms, Music Therapy
Easy-to-Read Format
Inside the book you'll find over 100 questions organized into 14 chapters, starting with the basics of stroke, through to recovery of each part of your body and mind. The questions address brain function, physical mobility, communication, and thinking skills, as well as more holistic aspects of recovery, such as sense of self, finding purpose, and keeping friends.
"An insightful and comprehensive how-to guide to surviving stroke." – Dr. Oz
We understand that reading a book cover-to-cover isn't always possible, especially after a stroke. Each chapter ends with a summary of take-away points for those who are too overwhelmed to read the full text. Technical or medical words are in italics so you can look them up online for more information. Important concepts are bolded for easy scanning. The book is also available in audio format [*affiliate link] for those who prefer to listen, and as a Kindle e-book [*affiliate link].
"The book is well-written, friendly, and clear, but most importantly communicates information in a direct and practical way, making it a useful handbook for caregivers like me facing the challenge of supporting a loved one who went through the tragedy of a stroke." – Jules P.
Guiding You Through The Stroke Recovery Journey
Part 1 focuses on the medical aspects of stroke, starting with question #1: What is a stroke? Doctors answer important questions such as #4: What are the chances that stroke survivors will have another stroke? And #15: What factors impact stroke recovery?
Moving on to rehabilitation, therapists answer questions about recovery of physical and cognitive impairments in Part 2:
#22: What can stroke survivors do at home to improve their walking?
#27: Why is it that the paralyzed arm and hand seem the slowest to recover?
#39: What can family members do to help their loved ones with cognitive problems?
#50: Does a person with a communication problem have the right to make his or her own decisions?
#56: What should a stroke survivor look for in a therapist?
In Part 3, the focus is on life after stroke. Are there vitamins that stroke survivors should take? Is it possible to work again after a stroke? What's the deal with oxygen therapy? There are even questions you may not feel comfortable asking your doctor, like when is it safe to drink alcohol or have sex again? The experts tackle difficult questions about finding purpose in a new life.
Part 4 offers advice for caregivers, then wraps up with The Next Chapter in Stroke Recovery – information on exciting developments in the research pipeline. Stem cell treatments, electrical stimulation, and robotics hold promise for the future, described in this book by the scientists who are researching them today.
Healing the Broken Brain Authors
Leading the project was Dr. Mike Dow, a celebrated psychotherapist who recently hit the NY Times best-seller list with "The Brain Fog Fix." Mike shares his expertise throughout the book with mindful meditations, nutritional advice, and his own story of watching his brother recover from stroke. Healing the Broken Brain is meant to help other families find answers to the questions his family struggled with years ago.
Learn how food is medicine as Dr. Mike talks about brain food on Rachel Ray.
David Dow is a stroke survivor, and Mike's younger brother. He has worked hard to recover his speech, mobility, and independence after a massive stroke at age 10. David asked each of our experts questions from real stroke survivors, keeping the experts focused on whom they were really giving advice to. David shares his personal experiences throughout the book.
Megan Sutton is a speech-language pathologist and creator of the best-selling Tactus Therapy apps. Her years of working in stroke rehabilitation gave her first-hand experience with the team approach necessary for stroke recovery. Working with survivors along the continuum of care provided insight into the concerns that families have. Megan adds her own expertise on using technology to aid cognition and language.
Listen to Megan on the Conversations in Speech Pathology podcast "Aphasia App-titude."
Order Your Copy of Healing the Broken Brain Today!
Healing the Broken Brain is available now from Amazon [*affiliate link] or at your local bookstore. It's the perfect gift for a friend or family member whose life has been affected by stroke. It may be just the thing they need to remember that no matter how broken the brain, there are always ways to heal.
Have you already read Healing the Broken Brain? If you found it helpful, please leave a review on Amazon so others will know it's worth reading. Positive reviews help us to help more people recovering from stroke.

*We are a participant in the Amazon Services LLC Associates Program, an affiliate advertising program designed to provide a means for us to earn fees by linking to Amazon.com. If you are interested in the products above, please use these links to help support this site. We will only share products that we believe to be truly useful or evidence-based.

If you liked this article,
Share It !