How To:


Mirroring Apps on a Computer Screen
for Use in Telepractice or Video Calls

Many speech therapy sessions are moving online – a format called telepractice, teletherapy, or telehealth. While we know that telepractice is effective, many of us are still learning how to actually do it.

The good news is that all your favorite speech therapy apps can still be used in virtual therapy sessions! There are many ways to share what you see on your mobile device with the person on the other end of the video call – some are even wireless. The process is called "mirroring."

Download your FREE 4-page handout to learn 3 different ways to mirror your iPad or Android tablet to your computer (Mac or PC) and watch this informative video showing you how.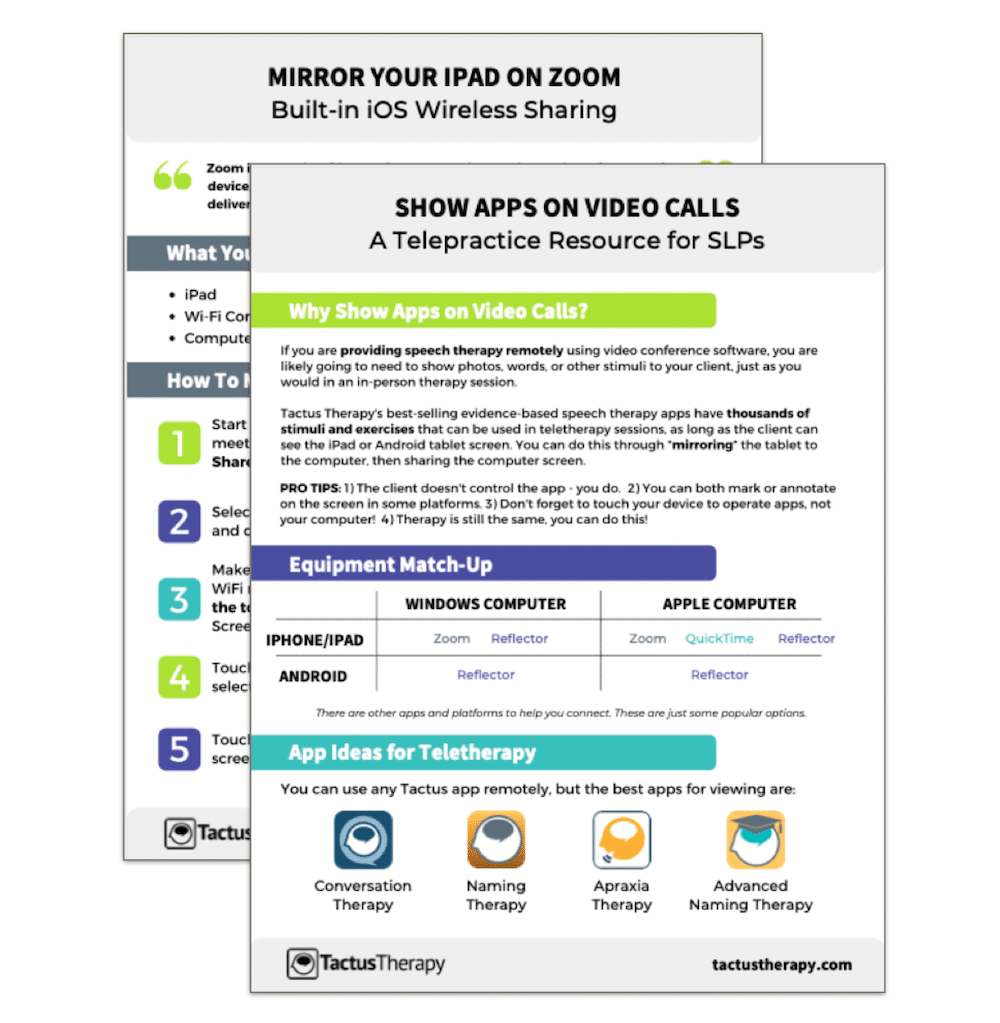 Three ways to mirror apps:
Wirelessly using Zoom
On a Mac with QuickTime
Using Reflector
In addition to receiving your free download, you will also be added to our mailing list. You can unsubscribe at any time. Please make sure you read our Privacy Policy and Terms & Conditions.
Other Resources for Mirroring Apps
While we've highlighted some of the most popular and easiest ways to mirror apps to a computer for screen sharing, there are many other ways to do it and many other tutorials. Here are some other resources to help you:
From the Makers of Reflector and Zoom:
Other Apps and Ways to Mirror Android Devices (External Links)
Want to give your client actual control over the app? "Speech Techie" Sean Sweeney explains how to use our method for using an Android app on a PC or Mac and combine it with telepractice! This is a bit of a process, so I recommend it only for the tech-savvy. Click the link to read about the interactive use of mobile apps in teletherapy on his blog.
If you found this useful,
Share It !