See Advanced Comprehension Therapy In Action
Here's What People are Saying about
Advanced Comprehension Therapy
This was just the app I was looking for!
Many patients will benefit from using this app!
What You'll Get in
Advanced Comprehension Therapy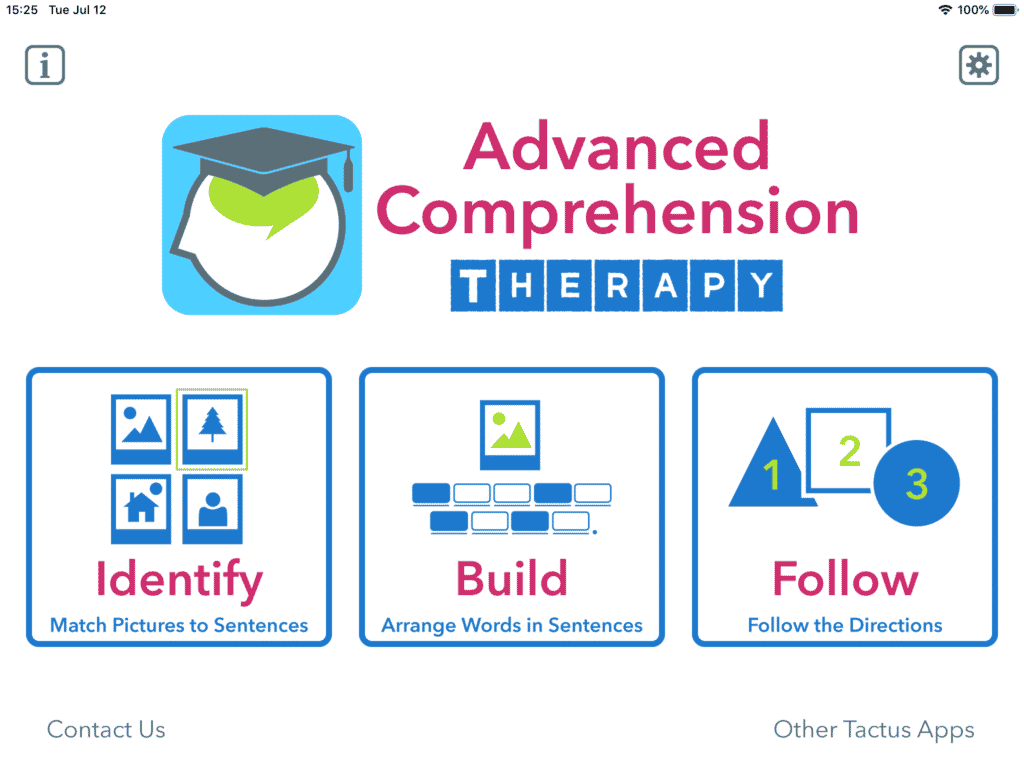 Three activities provide thousands of auditory & reading comprehension exercises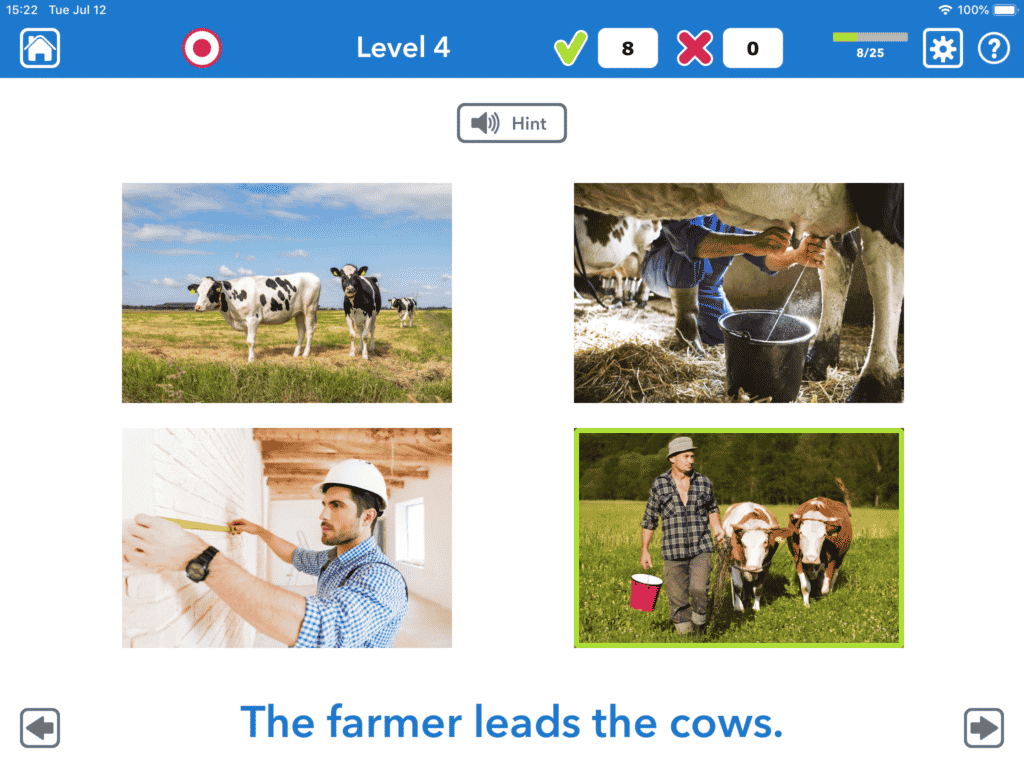 1) Identify: Find the picture that matches the sentence you hear or read, with hints, option to repeat slowly, and a wide variety of sentence types with challenging photo foils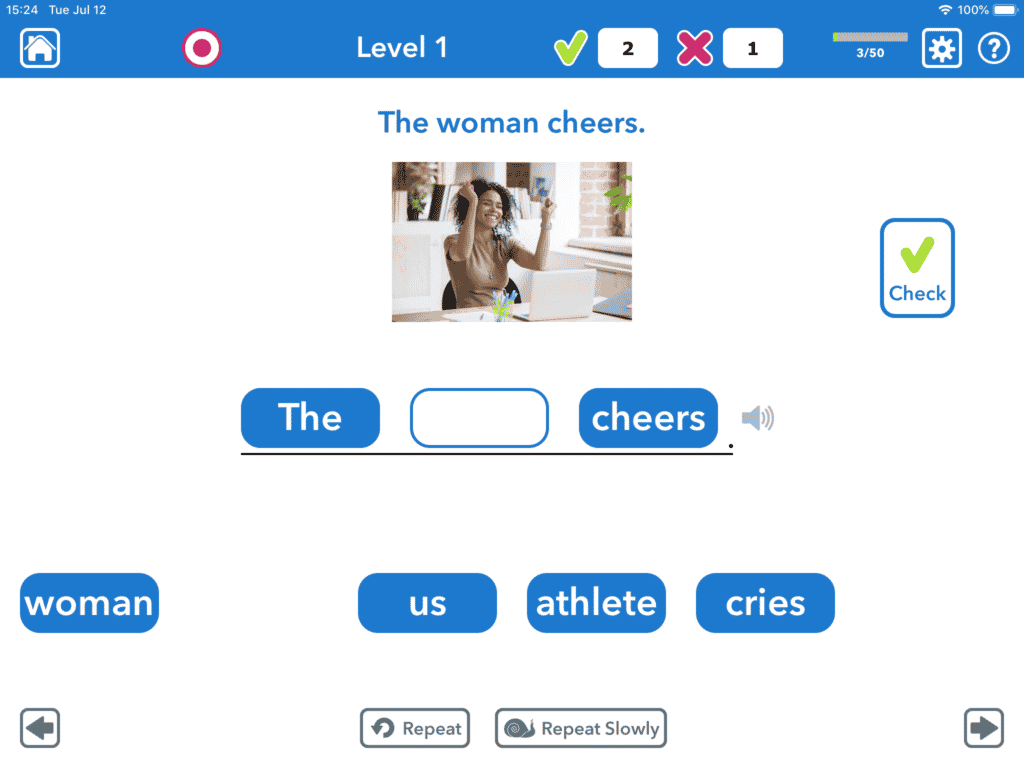 2) Build: Put the words in the right order to match the sentence you hear & see, with support, and a "check" option that allows for self-monitoring before submitting an answer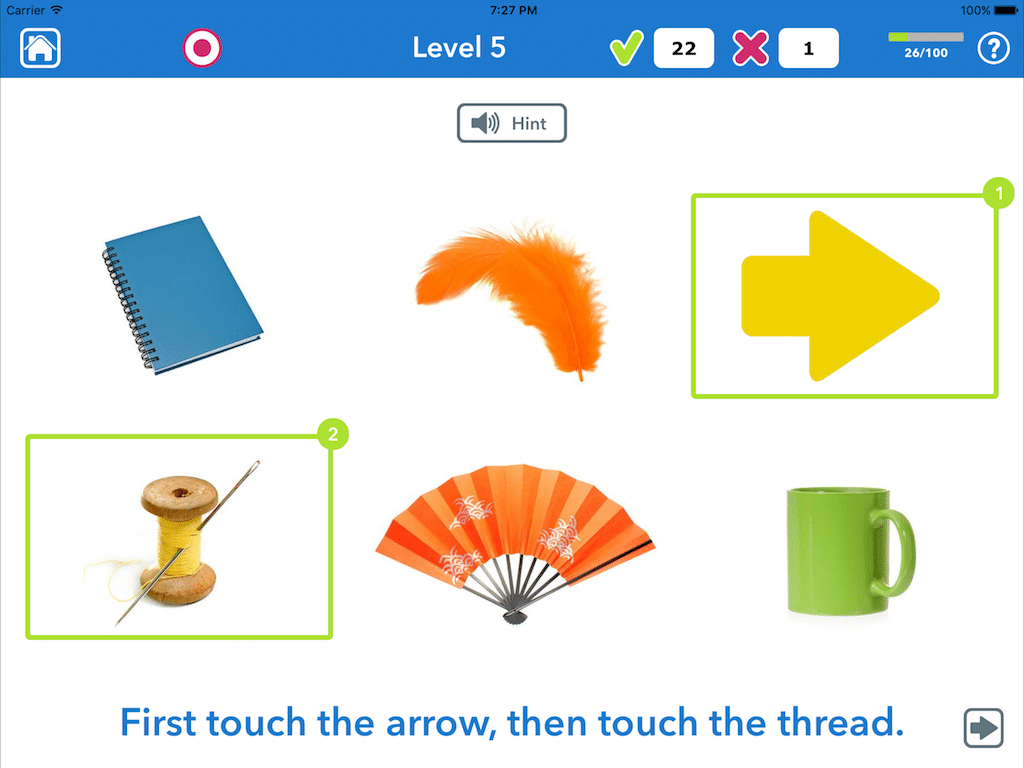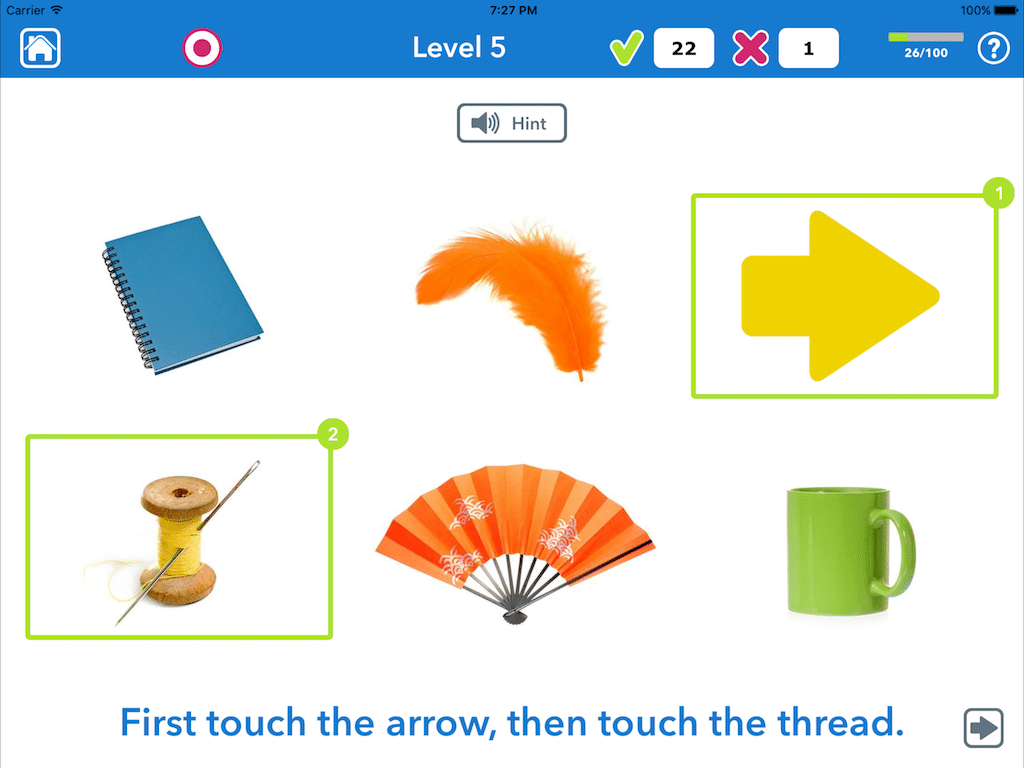 3) Follow: listen or read carefully to follow 16 levels of directions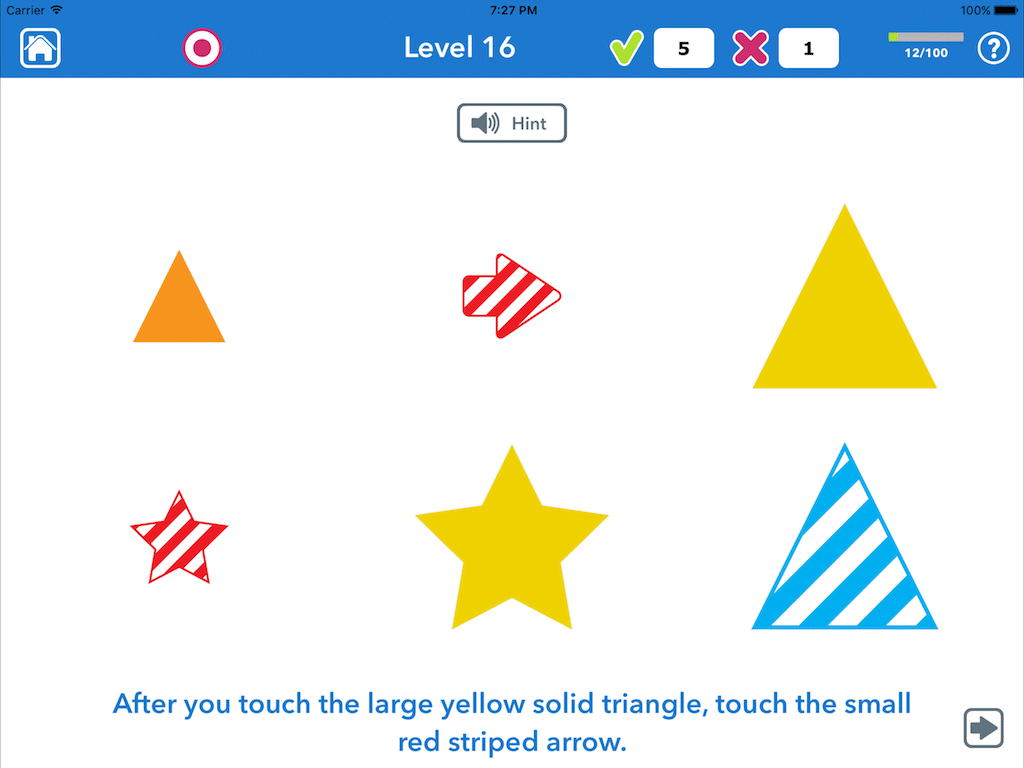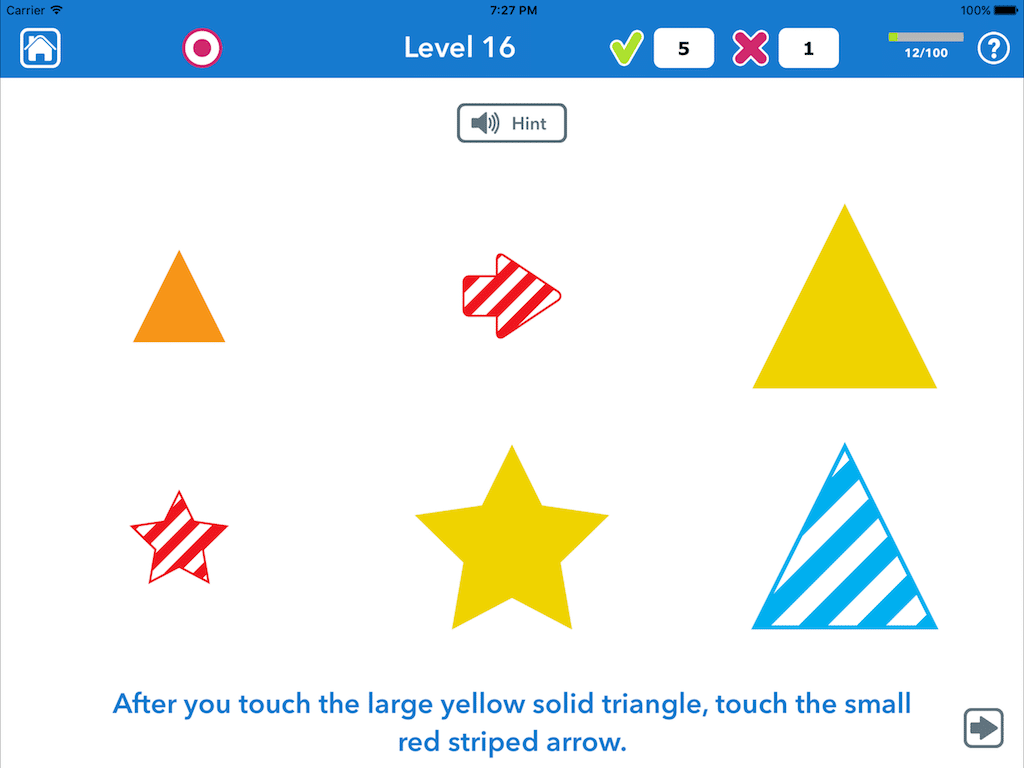 Adjust difficulty by working on one level at a time until you master it, focusing attention on the words, as there is no context to fall back on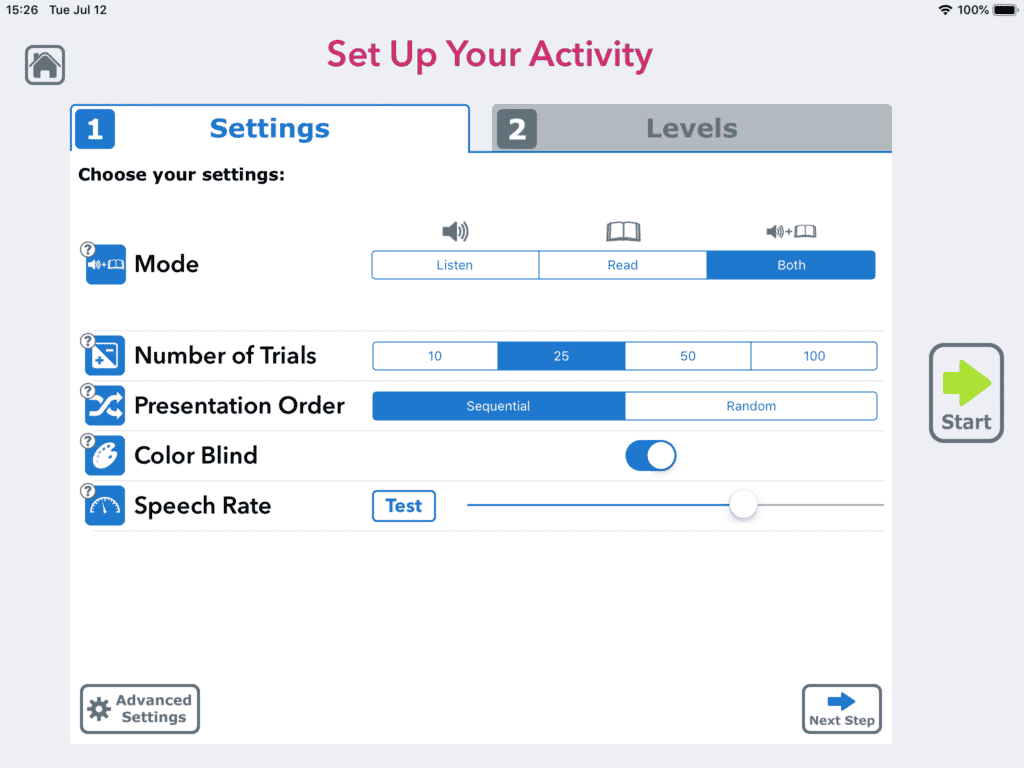 Customize each activity with flexible settings to meet each user's needs
All the Tactus Therapy apps are designed by a certified speech-language pathologist and are based on research and clinical best practices. Learn more about the evidence behind this app.
Try Before You Buy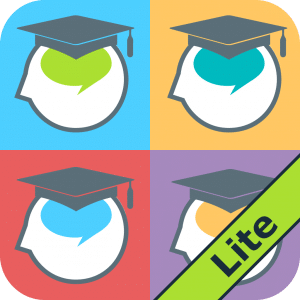 Advanced Language Therapy Lite
Download Advanced Language Therapy Lite for free on your iOS or Android device for a sample of Advanced Comprehension Therapy. The Lite version allows you to try all 3 activities (along with 3 other apps) for a sample of the thousands of exercises you'll get in the full version.
Power User Tips
Get the most out of Advanced Comprehension Therapy. Browse these tips from the speech-language pathologist who developed this app!
Target Listening or Reading
Change the mode of Identify and Follow to either Listen, Read, or Both to target auditory comprehension, reading comprehension, or total understanding.
Quick Assessment
Select all levels in an activity with Random presentation order & 50 trials to get a rough idea of which levels are too easy (>90% accuracy), too hard (<50%), and just right (50-90%).
Where to Start
Select only the levels in the range of 50-100% accuracy based on the assessment. If more than 2 levels are at 100%, only include the highest ones, omitting the really easy levels.
Make it Easier
In Identify, you can change the Field Size to stay constant at 2 or 3 choices. In Build, you can set the Extra Words to none. In all activities, select only easier levels (lower numbers).
Make it Harder
Speed up the Speech Rate to work on understanding faster speech. Focus on harder levels, add extra words or choices, and work using the mode that is most challenging.
Gain Independence
Use the Hint button when you're stuck to see a text cue (Mode=Listen), hear an audio cue (Mode=Read), or have the incorrect answers faded (Mode=Both).
Don't Forget to Download Your
FREE USER GUIDE
Get the most out of this app when you have all the power user tips & step-by-step instructions. Fill out the form so we can send your free PDF user guide straight to your inbox!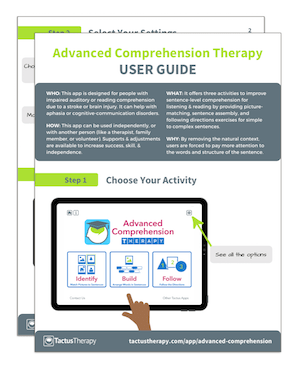 In addition to receiving your free download, you will also be added to our mailing list. You can unsubscribe at any time. Please make sure you read our Privacy Policy and Terms & Conditions.
Start using this app or save with a bundle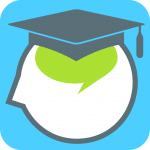 Advanced Comprehension Therapy
Challenge your understanding with listening and reading exercises for sentences – perfect for mild or moderate aphasia.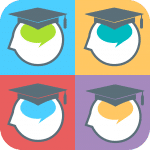 Advanced Language Therapy
Take aphasia therapy to the sentence level & beyond with 4 apps that strengthen listening, talking, reading, & writing.