Using Speech Therapy Apps to Treat Mild Aphasia
10 min read

Mild aphasia simply means that the listener is impacted mildly by the problems the person with aphasia is having. For the person with mild aphasia, it can feel really severe. Imagine feeling like the word you want is on the tip of your tongue – all the time. It's not hard to see why someone who has made a fantastic recovery in their language skills after a stroke or brain injury may still suffer a huge blow to their confidence when every conversation is a gamble as to whether it will go smoothly or not.
For those with mild aphasia, there are many treatment options available that can challenge their abilities beyond daily conversation to strengthen the underlying linguistic skills and cognitive resources. And many of these evidence-based treatments can be completed in therapy sessions or at home using Tactus Therapy apps.
In this video-enriched resource, we'll take you through what mild aphasia is and how it impacts language, and show you all the Tactus Therapy apps that can help. And remember – you can try these apps for free by downloading the Lite version to see if you or the person with aphasia in your life can benefit.
Download this guide to using apps to treat mild aphasia
This free PDF handout contains the details about which activities & settings to use in each of the recommended apps. Perfect to print & give to families or use to help your loved one with mild aphasia.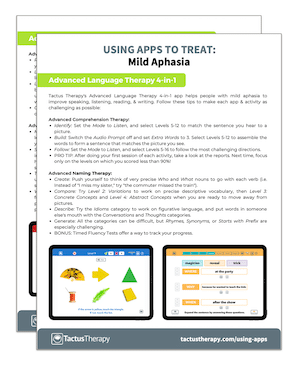 In addition to receiving your free download, you will also be added to our mailing list. You can unsubscribe at any time. Please make sure you read our Privacy Policy and Terms & Conditions.
Defining Mild Aphasia
Mild aphasia means the person experiences difficulty communicating less than 25% of the time. It may not be obvious to everyone they speak with.
Here's a guide for helping people with severe aphasia or global aphasia. Severe aphasia means the message is conveyed less than 50% of the time.
Not everyone with mild aphasia will have mild impairments in all four areas of language. Some have relative strengths in speaking and understanding, but perhaps reading and writing are more challenging.
Here's what mild-moderate and mild impairments might look like in each of the four major language skills:
There is also a level of aphasia that could be called minimal aphasia. If you are only experiencing problems when you are tired, stressed, or if your problems communicating are part of a larger cognitive-communication impairment, you may find these apps and exercises too easy. Always try the free Lite versions before purchasing if you are unsure.
Using Apps to Treat Mild Aphasia
It's important to know that mild aphasia can improve over time. Motivation, repetition, and the right kinds of exercises are all needed to make progress on communication goals. That's where our evidence-based speech therapy apps can help. Jump to the app you want with the links below or keep scrolling to read more.
Advanced Language Therapy 4-in-1 (all 4 apps)
Bonus App
1) Advanced Language Therapy 4-in-1
Advanced Language Therapy helps people with moderate and mild aphasia in all four areas of language. For mild aphasia, here are some tips on how to use the app in its most challenging form.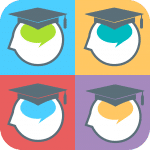 Advanced Language Therapy
Take aphasia therapy to the sentence level & beyond with 4 apps that strengthen listening, talking, reading, & writing.
Learn more about the evidence-based speech therapy techniques that can help with mild aphasia using this app:
2) Conversation Therapy
Conversation Therapy requires a communication partner, but as most people with mild aphasia are looking to improve their conversational skills, it's perfect! Here are some tips for using this app with mild aphasia: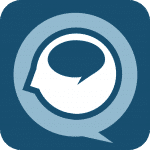 Conversation Therapy
Engage in real-life discussions with pictures & questions that get people talking to practice communication strategies.
Learn more about the evidence-based speech therapy techniques that can help with mild aphasia using this app:
3) Number Therapy
Number Therapy focuses on understanding, saying, and recording numbers of all kinds. Often numbers are the most difficult category of words to come back after aphasia. This app lets you drill down the problem so it will get easier. Here are some tips for using this app with mild aphasia: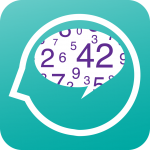 Number Therapy
Communicate numerical concepts with speaking, listening, reading, and writing exercises.
Learn why numbers are such an important part of language that is often neglected during speech therapy:
Bonus App for Mild Aphasia
While the apps above are made with mild aphasia in mind, this app can be used if you're looking to expand your treatment.
Apraxia Therapy
Use the Long Words activity in Apraxia Therapy to practice pronouncing multi-syllabic words. Finding the rhythm of longer words can help. Each set of words is organized by stress pattern, so you can feel the difference between "so-PHI-sti-ca-ted" and "en-thu-si-AS-tic" as they roll off your tongue.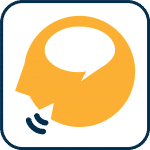 Apraxia Therapy
Speak more easily and build independence with video-assisted speech therapy to help people with apraxia after a stroke.
Found this article useful? Download the guide now.
This handout contains all the key information about what to do in each of the recommended apps.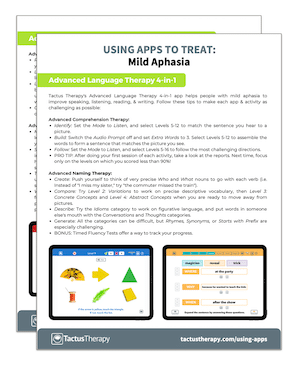 In addition to receiving your free download, you will also be added to our mailing list. You can unsubscribe at any time. Please make sure you read our Privacy Policy and Terms & Conditions.
If you liked this article,
Share It !