What is an ICAP? Intensive Aphasia Therapy Explained
6 min read
The brain needs a lot of repetition in a short amount of time to change, especially after a stroke or other brain injury. To help people with communication impairments improve more effectively, a special type of aphasia therapy program was developed called an ICAP: Intensive Comprehensive Aphasia Program.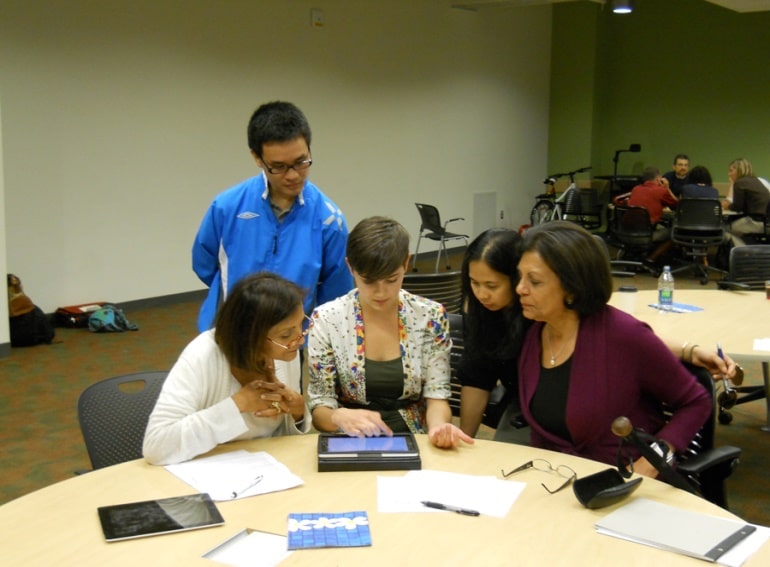 Although ICAPs vary in how they are set up, their use of student therapists, and whether they include recreational components, all ICAPs must be both:
Intensive – at least 3 hours per day of speech-language therapy for at least 2 weeks,
and
Comprehensive – addresses a wide range of goals, incorporating multiple approaches to aphasia treatment, including:

Technology,
Education,
Group and individual treatment,
Numerous evidence-based therapy approaches to help people with aphasia improve and better participate in meaningful life activities.
An excellent overview of this model is provided in the article "Intensive Comprehensive Aphasia Programs: An International Survey of Practice" (Rose et al., 2013).

Where can I find an ICAP in my area?
Because of the highly specialized nature of these programs, there are not many around. Most people will have to travel to attend one. In a 2012 survey, there were only 12 such programs worldwide! More programs have started since then, so ask your aphasia therapist or call your local university clinic to locate an ICAP near you.
Here are the ones we know about:
United States
Canada
Australia
If you're aware of any others, please let us know so we can add it to this article.
More information from an ICAP organizer
Being from Vancouver, we asked Wendy Duke from Columbia Speech and Language Services more about the ICAP that they run here in BC. Wendy and her staff have been running iTAWC (pronounced "I talk"): Intensive Treatment for Aphasia in Western Canada since 2011.
Who benefits from an ICAP?
At iTAWC, we have had attendees in their late teens through to their late 70s – age is not important. Our admission criteria include:
Diagnosis of aphasia (any type or severity)
Sufficient hearing, vision, and memory to participate
Independence for toileting and safe eating (or an assistant present)
Stamina and energy for hard work
A "can do" attitude!
What is your ICAP like?
On the first day, we provide a comprehensive speech and language assessment, and conduct interviews with our clients and their family members to learn more about their goals and interests. Treatment begins the following day. Our main focus is on expression, conversation, and social connection.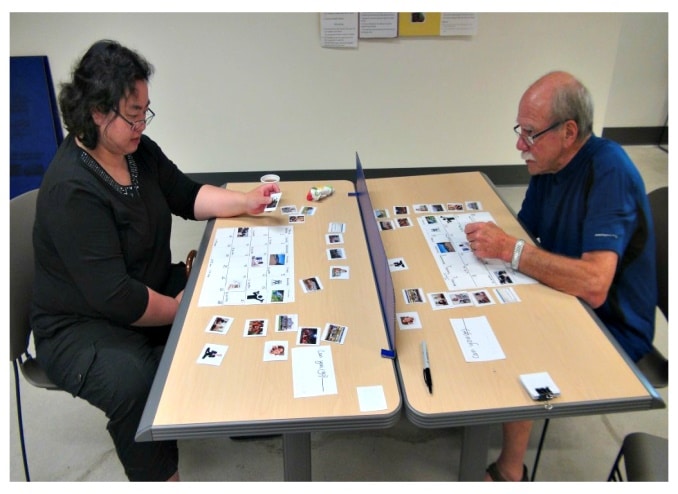 We offer two versions of the program; each runs Monday-Friday for 4 weeks:
Fall and Winter/Spring: 3.25 hours/day

SLPs provide therapy in a one-to-one ratio in 3 50-minute sessions and a conversation group

Summer: 4.25 hours/day

2 hours of one-to-one therapy provided by SLPs
25 hours of additional therapy "functional lab" time provided by SLP-supervised graduate student interns
What are the treatment goals in an ICAP?
There is no such thing as a "typical" session because activities are customized to each individual. Goals can be very specific and targeted within a couple of sessions (e.g., saying "I love you" to a spouse), or more general and targeted for weeks (e.g., "being able to take turns in a conversation"). Here are some examples of actual specific goals:
Send text messages to my friends without help
Read a short newspaper column independently
Give a toast at my daughter's wedding
Read a bedtime story to my granddaughter
Pronounce words with more than one syllable
Say words and phrases used in playing bridge
Tell my spouse about my day
What do participants think of ICAPs?
Most clients enjoy the process despite the hard work, which can certainly be exhausting. Some of our clients have described it as being like "boot camp". Debra (pictured with her husband, Dave) talks about the hard work involved: "The four week intensive aphasia rehab camp was a wonderful help to Dave (and me). The course design is very effective, from coffee and cookies through very hard and productive classes, to group discussion at day's end. Dave's speech improved, both quantitatively and qualitatively. As a bonus, his self-confidence (and mine) got a boost."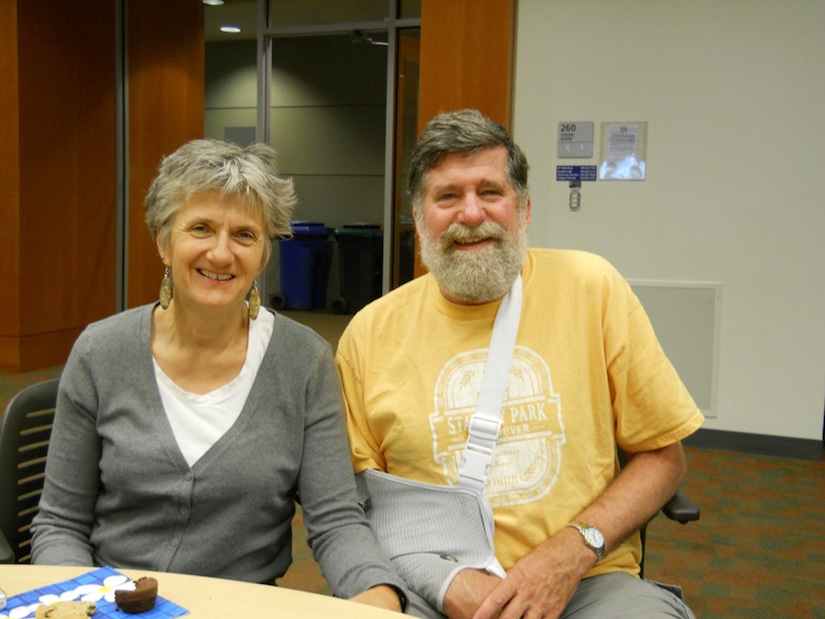 How are ICAPs funded?
Most programs have significant price tags reflecting the number of professional hours involved, and funding sources vary by program. Rose et al. (2013) found that most of the ICAPs surveyed relied largely on private payment for services, although some were funded in whole or in part by insurance, government, research grants, or donations.
At iTAWC, although most people pay privately, we have had rare clients funded by car insurance, workers' compensation, veterans' funding, and crime victims' funding. We even had a client come all the way from Tennessee with the help of a "GoFundMe" campaign. Contact your local ICAP for funding information.
Do ICAPs work?
Like all speech and language therapy, no guarantee of a specific outcome can be provided since every person and every aphasia is different. However, we do know that people tend to improve more when therapy is delivered intensively.
Many ICAPs provide pre- and post-treatment testing. This serves not only to provide feedback to individuals on their own progress, but also to inform the therapists about the success of their methods (see Persad et al. (2013)). We typically see improvement on standard tests, which is heartening given the hard work involved– not to mention that most of our participants have had aphasia for more than a year (at which point spontaneous recovery has typically slowed).
But an ICAP is not a cure; people who come in with significant aphasia will leave with significant aphasia. It is important to have realistic expectations for recovery, and these should be discussed with the ICAP director before signing up. We like to focus on how well people are able to participate in their own meaningful life activities after treatment.
What happens after discharge?
Recovery doesn't end just because formal therapy ends. We carefully plan for clients to continue improving after discharge. As appropriate, each client receives:
A customized "speech workout" that may include:

Using therapy apps such as Naming Therapy or Advanced Comprehension Therapy
Watching videos of the therapist's mouth saying words and phrases for ongoing practice
Instructions on how to keep improving reading or listening skills using specific online resources
Reminders on how to use a customized phrase bank for sending emails

A set of guidelines for family members and friends to support conversation
A report outlining therapy activities used for future reference
A wrap-up meeting to review activities and recommendations
Information about relevant local opportunities for social participation in the client's community, such as stroke clubs and aphasia camps, and on-line resources, such as Aphasia Recovery Connection
Caregivers also benefit, learning how they can help at home, as well as through meeting others who can relate to the unique challenges of caring for a person with aphasia. Most clients exchange contact information with each other, staying in regular contact online via Facebook or Skype. Some clients return the next year to continue improving their speech.
If you or a loved one have aphasia, are medically stable, and have sufficient stamina to take part in an intensive program, you should consider an ICAP as a treatment option.
If you liked this article,
Share It !