12 Fascinating Stories about Adult Communication Disorders
7 min read
Textbooks give us detailed and valuable information about communication disorders – the causes, impairments, and treatments. But these facts don't really come alive until we understand the human experience that goes with them – the impact on the person, their family, and their lives. What does it really mean to live with a memory problem? To be unable to speak? To love someone with a brain injury?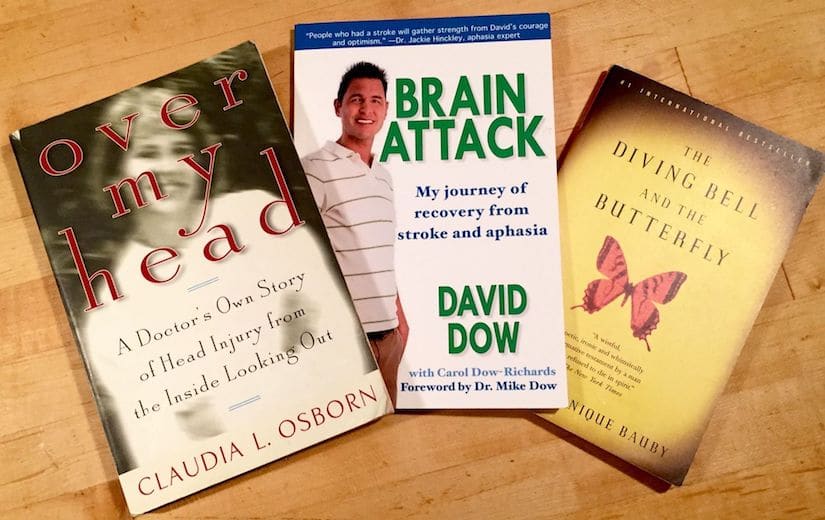 Here are 12 poignant, personal stories that teach the lessons you won't learn from a textbook:
Stroke Stories
My Stroke of Insight: A Brain Scientist's Personal Journey
by Jill Bolte Taylor
"In 1996, 37-year-old neuroanatomist Taylor experienced a massive stroke that erased her abilities to walk, talk, do mathematics, read, or remember details. Her remarkable story details her slow recovery of those abilities (and the cultivation of new ones) and recounts exactly what happened with her brain." – Publishers Weekly
Also check out this book with factual answers sprinkled with personal narratives: Healing the Broken Brain: Leading Experts Answer 100 Questions about Stroke Recovery.
The Diving Bell and the Butterfly: A Memoir of Life in Death
by Jean-Dominique Bauby
"On December 8 1995, Elle magazine editor-in-chief Bauby suffered a stroke and lapsed into a coma. He awoke 20 days later, mentally aware of his surroundings but physically paralyzed with the exception of some movement in his head and left eye. Bauby had Locked-in-Syndrome, a rare condition caused by stroke damage to the brain stem. Eye movements and blinking a code representing letters of the alphabet became his sole means of communication. It is also how he dictated this warm, sad, and extraordinary memoir. Bauby's thoughts on the illness, the hospital, family, friends, career, and life before and after the stroke appear with considerable humor and humanity." – Library Journal
My Beautiful Broken Brain
"A profoundly personal voyage into the complexity, fragility, and wonder of the human brain, after Lotje Sodderland miraculously survives a hemorrhagic stroke and finds herself starting again in an alien world, bereft of language and logic. This feature documentary takes us on a genre-twisting tale that is by turns excruciating and exquisite – from the devastating consequences of a first-time neurological experiment, through to the extraordinary revelations of her altered sensory perception."
Learn more about this genre of illness narratives or disability memoirs in this archived ASHA article (PDF) by Dr. Raymond Kent.
Aphasia Stories
Aphasia the Movie
"Aphasia is the true story of Carl McIntyre who, after suffering a massive stroke and losing his ability to read, write and talk, struggles against overwhelming odds to redefine his life. Carl McIntyre stars as himself and gives a compelling and nuanced performance in this life-affirming film which puts the audience in the seat of the stroke and provides an emotional and humorous ride as Carl navigates the waters of his new normal."
One Hundred Names for Love: A Memoir
By Diane Ackerman
"When novelist, memoirist, and critic Paul West was hit with a stroke in 2005 that left his brain scorched and his body battered, both he and his wife, Diane Ackerman, a poet and the lushly original author, had a lot to lose. But West never succumbed to his impaired vision, frozen right hand, or, most remarkably, bewildering and silencing global aphasia; and Ackerman proved to be an ideal caregiver. Writing with her signature empathy, curiosity, brilliance, and mirth, Ackerman chronicles West's heroic battle to reclaim words and mobility and her tailoring of West's speech therapy to match his spectacular vocabulary and unique intelligence." – Booklist
Brain Attack: My Journey of Recovery From Stroke and Aphasia
By David Dow
"When David Dow was ten years old, his life suddenly changed due to a massive stroke. The stroke left him paralyzed on the right side and gave him aphasia, leaving him unable to speak, read, or write. Brain Attack shares David's story with frankness, humor, and most of all, with hope."
These stories provide excellent content for aphasia book clubs and stroke groups. Members can discuss the similarities and differences in their own experiences.
Brain Injury Stories
Over My Head: A Doctor's Own Story of Head Injury from the Inside Looking Out
By Claudia L. Osborn
"One summer evening in 1988, a young physician out for a bicycle ride without a helmet was hit by a careless driver and sustained a devastating brain injury. This autobiographical account 'from the inside looking out' details the physician's experience from the moment of impact through her remarkable comeback to the resumption of teaching and research responsibilities. Her story shows the effect of a severe head injury on behavior and personality. This inspiring documentation will assist patients, families, and friends enduring the same difficulties and help health professionals understand and train their patients in the difficult rehabilitation process." – Library Journal
Left Neglected
By Lisa Genova
"First-person narrator Sarah Nickerson is a 37-year-old, overachieving multitasker with a Harvard MBA and a demanding job as vice president of human relations at a Boston consulting firm. Then there's a car accident on a rainy November morning, and a traumatic brain injury leaves Sarah with 'left neglect,' a lack of awareness of anything to her left, including the left side of her own body. As Sarah's struggles parallel those of her 7-year-old son, Charlie, just diagnosed with ADHD, there is healing of body, mind, and mother-daughter relationship and acceptance that 'normal is overrated.' Neuroscientist Genova once again personalizes an actual disabling brain condition to create irresistibly readable and moving fiction." – Booklist
What exactly is left neglect? Read our popular article detailing the condition, assessment, and treatment.
Where is the Mango Princess? A Journey Back from Brain Injury
By Cathy Crimmins
"When her husband Alan is injured in a speedboat accident, Cathy Crimmins reluctantly assumes the role of caregiver and learns to cope with the person he has become. No longer the man who loved obscure Japanese cinema and wry humor, Crimmins' husband has emerged from the accident a childlike and unpredictable replica of his former self with a short attention span and a penchant for inane cartoons. Where Is the Mango Princess? is a breathtaking account that explores the very nature of personality and the complexities of the heart."
Learning by Accident: A Caregiver's True Story of Fear, Family, and Hope
By Rosemary Rawlins
"After her husband, Hugh, is hit by a car while riding his bicycle, Rosemary Rawlins is plunged into twelve months of marathon caregiving, without the promise of a positive outcome. She works herself to the point of exhaustion to bring her grievously injured husband—who suffered a traumatic brain injury, necessitating the removal of half his skull—back home and back to himself. Then, as he slowly begins to reclaim his life, Rosemary falls apart. Learning by Accident is a caregiver's story of ambiguous loss, family love, and emotional healing. This compelling personal account demonstrates with heart and humor that what we fear can be more debilitating than any physical injury."
Use the links to access most of these stories instantly through digital download. Your local library may have these titles for you to borrow for free, or you can order them online.
Dementia Stories
Still Alice
By Lisa Genova
"Neuroscientist Genova mines years of experience in her field to craft a realistic portrait of early-onset Alzheimer's disease. Alice Howland is an esteemed psychology professor at Harvard, living a comfortable life in Cambridge with her husband when the first symptoms of Alzheimer's begin to emerge. Alice is shocked to be diagnosed with early-onset Alzheimer's, after which her life begins steadily to unravel. She loses track of rooms in her home, resigns from Harvard and eventually cannot recognize her own children." – Publishers Weekly
Alive Inside
"This stirring documentary follows social worker Dan Cohen, founder of the nonprofit organization Music & Memory, as he fights against a broken healthcare system to demonstrate music's ability to combat memory loss and restore a deep sense of self to those suffering from it. Rossato-Bennett visits family members who have witnessed the miraculous effects of personalized music on their loved ones, and offers illuminating interviews with experts including renowned neurologist and best-selling author Oliver Sacks and musician Bobby McFerrin."
Which stories are your favorites? Which stories have we missed? Please share!


*We are a participant in the Amazon Services LLC Associates Program, an affiliate advertising program designed to provide a means for us to earn fees by linking to Amazon.com. If you are interested in the products above, please use these links to help support this site. We will only share products that we believe to be truly useful or evidence-based.

If you liked this article,
Share It !