10 Must-Have Textbooks for Adult Speech Therapy
7 min read
When you're in grad school, all textbooks look the same: required. You spend a fortune (usually borrowed money) and read as little as you have to in order to pass the test. Then real life hits. You have patients with problems you've never seen, and you need help. You rush back to those textbooks to find answers, but you only have one or two that actually deal with adult communication. So what now?
I recommend that you buy a few new textbooks for yourself. Not because they're required, but because they're useful. Sure, there's a lot of information available online, but nowhere will you find everything laid out as clearly and comprehensively as you will in a book.
Here are my top 10 recommendations for speech pathology textbooks (all published in 2010 or later) you'll really want to read once you're working in the field of adult communication disorders:
Textbooks on Aphasia
1) Manual of Aphasia and Aphasia Therapy
by Nancy Helm-Estabrooks, Martin L. Albert, & Marjorie Nicholas; 2013 (3rd Ed.)
Want to know what to do for perseveration? Wernicke's aphasia? improving non-verbal expression? This book has 16 chapters dedicated to specific treatment procedures, along with just as much content explaining foundations, assessment, and goal-setting for aphasia. It truly is a manual for aphasia treatment, and it is frequently referenced in our "How To" articles that makes many of these treatments more accessible. (The book also comes with a DVD, but sadly, I no longer have a DVD drive available to use it.)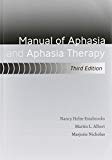 [*affiliate link)
2) Aphasia Rehabilitation: Clinical Challenges
by Patrick Coppens & Janet Patterson; 2017 (1st Ed.)
This newer book gets at the tough cases: perseveration, paraphasia, agrammatism. It tackles real-life challenges: intensity, motivation, and incorporating EBP. This is an advanced text for practicing clinicians that helps you problem-solve the questions you have in daily clinical life. While I don't own it yet, it's at the top of my wish list.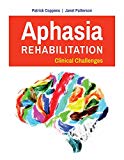 [*affiliate link]
Textbooks on Cognitive-Communication
3) Optimizing Cognitive Rehabilitation: Effective Instructional Methods
by McKay Moore Sohlberg & Lyn Turkstra; 2011 (1st Ed.)
If you work in brain injury rehab, you need to have this book. It shows you how to teach someone to use a strategy, rather than just telling you which strategies to use. SLPs are rarely given enough training in educational methods, especially those who study for a medical career. I know my practice changed after hearing the authors speak on this topic and after reading this book. I bet yours will too.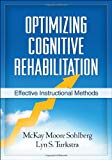 [*affiliate link]
4) The Right Hemisphere and Disorders of Cognition and Communication: Theory and Clinical Practice
by Margaret Lehman Blake; 2017 (1st Ed.)
Right hemisphere disorders are often missed and go untreated. But if you catch one, what do you do? Dr. Blake offers the first textbook dedicated to the topic. While there is not a huge literature base for treating right hemisphere disorders after stroke or brain injury, she offers what is known to help clinicians better manage these patients.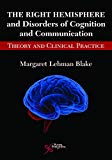 [*affiliate link]
5) Cognitive Rehabilitation Manual: Translating Evidence-Based Recommendations into Practice
by Edmund C. Haskins et al.; 2012 (1st Ed.)
Clinicians swear by this book, filled with evidence-based treatments for brain injury. Each research-based intervention is broken down into step-by-step directions for rehab professionals (SLP, OT, Psych). If you want more training in these techniques, there are in-person and online courses that include the manual offered through ACRM.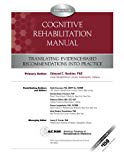 [*affiliate link]
6) Dementia: Person-Centered Assessment and Intervention
by Ellen Hickey & Michelle Bourgeois; 2017 (2nd Ed.)
I don't remember even hearing the word "dementia" in my graduate training, and yet there are SLPs for whom people with dementia comprise nearly 100% of their caseload. Too often, the restorative techniques that apply to brain injury and stroke are applied to those with dementia, which can result in frustration all around as degenerative disorders need a different approach. Drs. Hickey and Bourgeois offer amazing advice in their newly updated textbook to help SLPs assess and treat people with dementia in a more appropriate and effective way.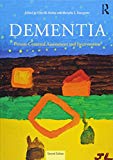 [*affiliate link]
Bonus Pick: Not a speech textbook, but a manual for practicing rehab clinicians, A Clinician's Guide to Successful Evaluation and Treatment of Dementia published by Northern Speech Services in 2016 is a handy reference for SLPs, OTs, and PTs working in skilled nursing facilities.
Textbooks on Dysarthria
7) Motor Speech Disorders: Substrates, Differential Diagnosis, and Management
by Joseph R. Duffy; 2012 (3rd Ed.)
This is an updated version of the Duffy textbook I would have been required to buy, had I opted to take the Motor Speech Disorders elective in my program. That's right: elective. That means I got out into the world with no clue how to diagnose or treat dysarthria. I borrowed this book from a colleague and embarked on some serious self-study. This book is the go-to resource for dysarthria diagnosis with lots of helpful charts for characteristics for differential diagnosis. There are helpful bonus features online so you can actually hear the different features.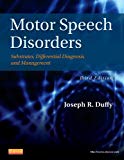 [*affiliate link]
8) Management of Motor Speech Disorders in Children and Adults
by Kathryn M. Yorkston, David R. Beukelman, Edythe A. Strand, & Mark Hakel; 2010 (3rd Ed.)
This was the first textbook I bought that wasn't required as I realized I needed help in actually treating dysarthria. A whole book dedicated to treatment! It complements the Duffy textbook nicely, as that one is primarily focused on diagnosis. If you don't know what to do when treating motor speech disorders (apraxia included), this would be a great addition to your bookshelf for quick reference.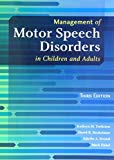 [*affiliate link]
Textbooks on AAC
9) Supporting Communication for Adults with Acute and Chronic Aphasia
by Nina Simmons-Mackie, Julia King, & David Beukelman; 2013 (1st Ed.)
Oh, how I wish this book were required reading for anyone working with people with aphasia. Many clinicians will confess they do not feel confident with AAC, and many ask "what's the best AAC app for aphasia?" This book will help you understand that the best AAC is often not an app or device, but rather a variety of tools and strategies that support adults in communication. I hope there is an update coming that will better address the range of technology options that are now available, but this is a great lifeline for clinicians who feel lost.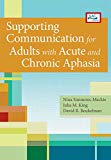 [*affiliate link]
Textbooks on Counseling
10) Counseling in Communication Disorders: A Wellness Perspective
by Audrey Holland & Ryan Nelson; 2018 (3rd Ed.)
Every patient with a communication disorder needs education and counseling at some point, often frequently. This is the book that will help you provide the right kind of support at the right time. Dr. Audrey Holland explains the positive psychology approach along with updated research in this brand new edition of a classic book.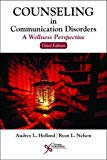 [*affiliate link]
Honorable Mentions:
A) Aphasia and Related Neurogenic Communication Disorders by Ilias Papathanasiou & Patrick Coppens; 2016 (2nd Ed.) [*affiliate link]
B) Aphasia and Other Acquired Neurogenic Language Disorders: A Guide for Clinical Excellence by Brooke Hallowell; 2017 (1st Ed.) [*affiliate link]
C) Language Intervention Strategies in Aphasia and Related Neurogenic Communication Disorders by Roberta Chapey; 2008 (5th Ed.) [*affiliate link]
Excellent books for students and new clinicians that cover many aspects of all acquired communication disorders from theory to assessment to treatment. If you're a student using these books in your coursework, hang on to them for your professional reference library. They are perhaps a bit too broad for a new purchase by practicing clinicians, but they are filled with valuable information written by top experts in the field. If you are new to the area of adult communication and want just one book to refresh on all areas, then these are for you.
But What About Dysphagia Textbooks?
I know that medical SLPs need to know a LOT about swallowing disorders, and that's why we created our Dysphagia Therapy app. My passion is communication, so that is what I spend my time reading about. I happen to have some wonderful colleagues who specialize in dysphagia, so I refer you to Theresa Richard's top recommendations for dysphagia textbooks.
A "Textbook" for Families
Finally, if you are a family member or loved one of a person living with a communication disorder, you may want to learn as much as you can to help the person in your life. You don't need a professional textbook to help just one person, but you may benefit from reading stories of other people in your situation. Healing the Broken Brain: Leading Experts Answer 100 Questions about Stroke Recovery is an excellent place to start if a stroke has hit your family.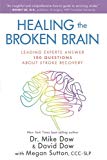 [*affiliate link]
*We are a participant in the Amazon Services LLC Associates Program, an affiliate advertising program designed to provide a means for us to earn fees by linking to Amazon.com. If you are interested in the products above, please use these links to help support this site. We will only share products that we believe to be truly useful or evidence-based.
If you liked this article,
Share It !