A Day in the Life of an SNF SLP
8 min read
Rinki Varindani Desai shares her experience working in a skilled nursing facility (SNF) providing rehab to long-term care residents.
As the Baby Boomers age, our society is facing a "silver tsunami" of older adults living longer with multiple chronic conditions – many of whom will require long-term care (LTC). Today's nursing homes are no longer a place to simply house the frail elderly; these skilled nursing facilities (SNFs) now offer a variety of rehabilitation services to improve function and quality of life for seniors. Many have a sub-acute rehab unit for patients recovering from illness or injury, in addition to long-term nursing care for those who cannot live on their own.
In 2014, there were an estimated 1.5 million residents in 16,000 SNFs across the US. By 2018, this number may be as high as 2.6 million. It's no wonder that SNFs are a growing employer of medical speech-language pathologists. Here's a day in my life as an SNF SLP to help discuss the important role of speech-language pathologists in long-term care settings.
9:45 a.m. Planning Ahead
My morning begins with a cup of coffee and a review of the patient schedule assigned by my rehab director earlier in the morning. I work with a team of 2 other SLPs, so it's nice to be able to start the day later and stay through dinner, to work with patients with swallowing disorders who need to be seen later in the day. Our caseload fluctuates; at times it may go up to 14 patients, and some days, it may drop to 6. I have a new patient on the rehab floor today, so I spend some time looking up his information in our electronic medical record system.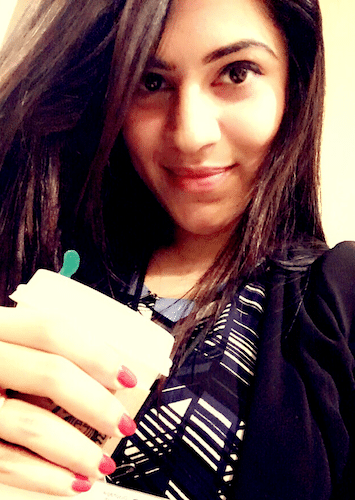 10:00 a.m. Rehab Rounds
Once a week, we have interdisciplinary team meetings, where one member from each rehab profession (PT, OT, SLP) meets with members from the nursing, dietary, and social work staff to discuss all the patients on the rehab floor of the SNF. We detail problems, progress, goals for physical, occupational, and speech therapy, and discharge recommendations. I take notes about my patients and those of my SLP colleagues. I am grateful to work with an SLP team; we rotate our attendance in these weekly meetings without significantly affecting our productivity.
10:30 a.m. Stroke Evaluation
I like to start my day with new evaluations, since they sometimes take longer than planned. Today I'm assessing an older gentleman who recently had a stroke. I complete a detailed speech and language evaluation, screen his swallowing to ensure he can consume his current diet and medications safely, educate the patient's son about my plan of care, and request an order to perform a more detailed dysphagia assessment.
11:50 a.m. Dysphagia Therapy
Mealtime in the SNF is usually spent treating patients with dysphagia (swallowing disorders). This is an area I am truly passionate about. Today, I am continuing to train a lady (and the nursing assistants) to use compensatory swallowing strategies to maximize her safety during meals. She has come a long way in the past few weeks of therapy, from relying on a feeding tube for nutrition to enjoying soft solids and thin liquids.
Find evidence-based dysphagia therapy exercises and strategies in the Dysphagia Therapy app.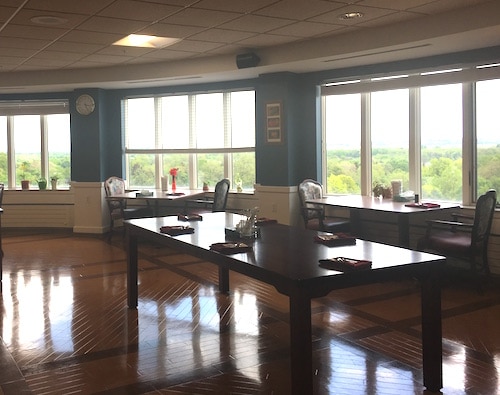 12:30 p.m. Nursing Rounds
On Tuesdays, the rehab staff meet with nursing leaders from all the long-term care floors, who bring to our attention any notable changes in residents. I make a note of the elders who would benefit from a screening for cognitive, communication, and/or swallowing disorders.
1:00p.m. Lunch
After helping others eat safely, it's time for me to grab a quick bite! There is an increased focus on completing point-of-service documentation in our company; so I completed all my notes in the therapy sessions and that means I don't have any reports to write during lunch like I used to. I use this time to respond to emails, liaise with OT and PT about some mutual patients we are treating, and head back out to the long-term care floors.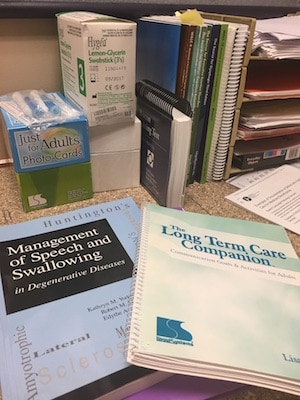 1:30 p.m. Family Conference
Next in my schedule is a family conference, where all the rehab disciplines speak with a patient's family about our therapy goals. This elderly patient had come in after a hip replacement surgery following a fall, and I was treating his mild swallowing impairments. While he made great progress in rehab, his cognitive impairments require him to be discharged to an assisted living facility, rather than home on his own. I respond to staff and family questions to facilitate a smooth transition.

2:00 p.m. Aphasia Therapy
My next patient is a delightful gentleman who suffered a massive stroke 2 years ago and now has severe expressive aphasia and apraxia. He understands language fairly well and is motivated to speak. He is tech-savvy and loves to practice our therapy exercises on his iPad after I leave. In our session today, we use the Apraxia Therapy and Naming Therapy apps to continue to work on improving his communication.
At the end of the session, I take him down to the ice cream shop in our facility so he can use his speech strategies to order a flavor of his choice. I always try to make our therapy sessions functional and meaningful for patients. He gets a reward for the progress he's been making in therapy, and I get to eat chocolate ice cream. Win-win!
2:45 p.m. Dementia Therapy
My afternoon transitions from aphasia to dementia therapy. A common misconception about working with the geriatric population is that patients with dementia cannot benefit from skilled SLP services. This is far from true! People with dementia have difficulty communicating because of the loss of skills in areas like memory, attention, problem solving, safety awareness and language skills. There are several evidence-based SLP intervention strategies that can be used to provide cognitive-communication therapy at the different stages of the disease.
I work with an elderly woman with dementia who has mild-moderate impairments in short-term memory. I use the spaced-retrieval technique to help her remember strategies for using her walker safely, and to remember to use the call bell when she needs assistance.
Use the Spaced Retrieval Therapy app to make it easy to track data and timing intervals!
3:15 p.m. Voice Therapy in Parkinson's Disease
Next up is a pleasant and motivated woman in her sixties with Parkinson's. I'm helping to improve her vocal loudness and speech intelligibility using LSVT Loud therapy, one of the most effective speech therapy approaches for individuals with Parkinson's disease. Now she can once again be understood on the phone, having learned to slow down her speech, speak louder, and use her breath better. Working with a mix of higher and lower level patients, and a variety of disorders throughout the day, keeps things challenging and fun!

4:00 p.m. Palliative Care
My last patient for the day today is a 101-year-old with advanced dementia, who is being evaluated for hospice care at the end-of-life. I spend my time educating the patient's family and nursing staff about how they can maximize her quality of life by continuing to provide nutrition orally in the safest way, minimize distress, and provide comfort. These conversations are often difficult, requiring a great deal of empathy, patience, and knowledge to ensure that the family's and patient's final wishes are given utmost importance. However, they help me truly appreciate all I have in my own life, and reinforce how meaningful our work can be.
4:30 p.m. Documentation and Dysphagia
Done with seeing my 7 patients assigned for today, I use the last half hour of my day to complete a pending progress note, email my colleagues about a patient, and respond to the doctor about my evaluation of her patient. I clock out of work, but stay back today to put in some extra time on a dysphagia education project I am working on for my company.

6:00 p.m. End of Day's Play
I am not a morning person, so I love the flexibility the SNF offers me in terms of my hours and schedule. Since we have three SLPs, we plan our timings in a way such that we are each available throughout the day to treat patients from 7 AM to 6 PM and this also helps keep our productivity in check. I pack my stuff, lock the rehab gym, and walk across the street to a park to unwind. From working with 101-year-olds at the end of life to watching toddlers at play in the park, my day comes full circle.

Closing Thoughts
The role of the SLP in the long-term care setting is vast in scope and vital to the functional status and safety of the patients. There are many misconceptions, as well as some real challenges, about working as an SLP in an SNF. Because some therapy companies place unrealistic productivity demands on therapists, and SLPs have to face a number of ethical challenges in these settings, the conversation about SLP services in SNFs has started to focus more on how to maintain "productivity" rather than improving patient care.
Our value should not be measured by the treatment minutes we provide, but by objective patient outcomes. I hope this perspective shifts to recognize the critical role SLPs play as patient advocates in SNFs and in providing valuable evidence-based skilled therapy services to the elderly with cognitive, communication, and swallowing disorders. Working in LTC is not easy, but it can be extremely gratifying. It is often easier to complain about productivity pressures and lack of SLP resources in SNFs than it is to challenge the status quo and bring about change; but perseverance does pay off.
In the year and a half that I have been working in LTC, I have volunteered my time to help kickstart a palliative care program, helped create a regional SLP Support Team, initiated the process of setting up mobile FEES, and am now in the process of creating company-wide resources to increase the use of evidence-based tools and practices in dysphagia therapy. We have to be willing to go above and beyond and to step out of our comfort zones to become agents of change in SNF settings. If I can do it, you can too!
More about this SNF
I am currently an employee of an outstanding therapy company called HealthPRO Rehabilitation and work full-time with 2 other SLPs at St. Johns Home, a 455-bed SNF in Rochester, NY. In 2003, St. John's Home became Rochester's and New York State's only registered Eden Alternative nursing home, focusing on person-centered care and practices dedicated to maximizing the quality of life for elders and their caregivers.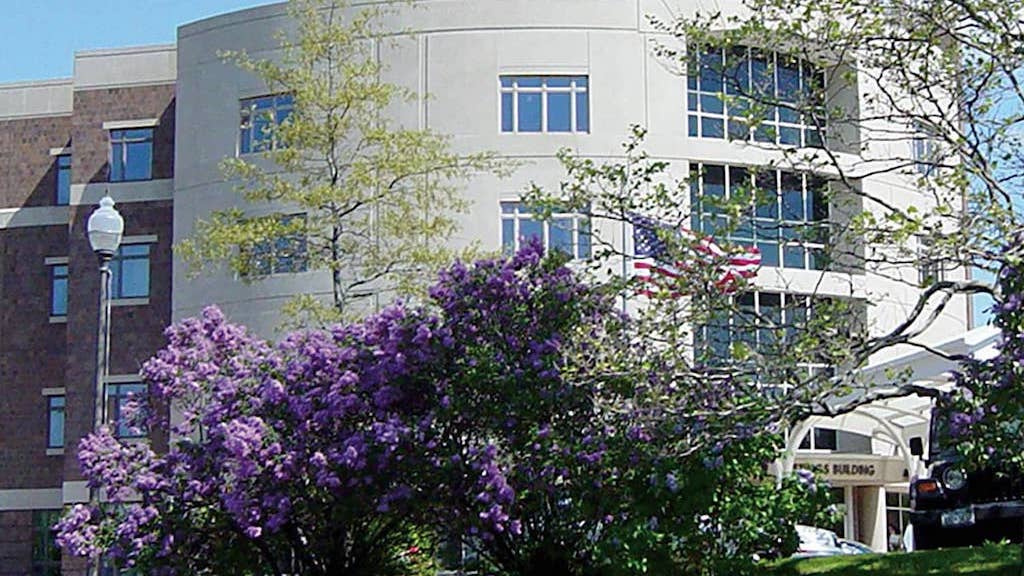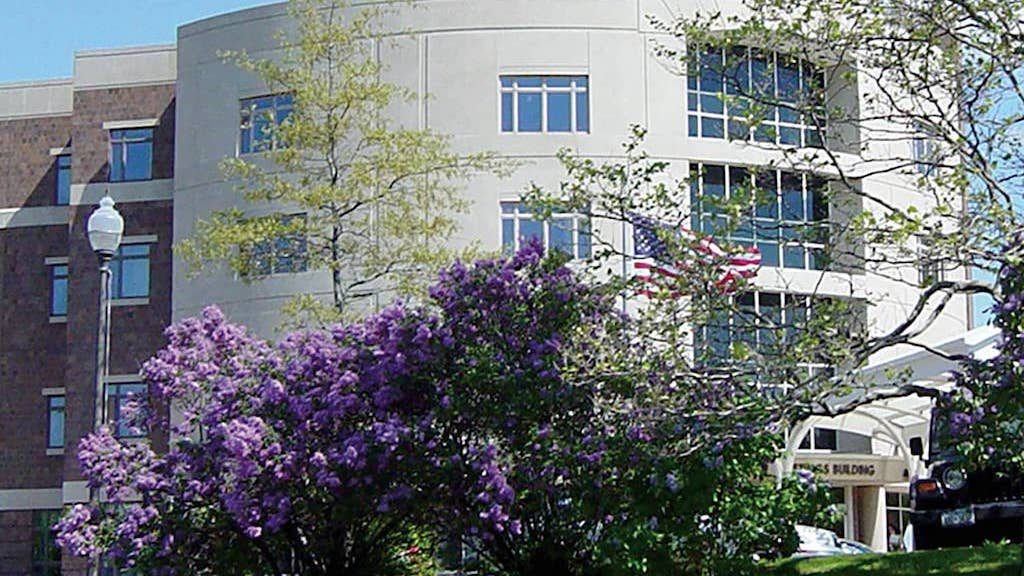 References:
If you liked this article,
Share It !